Words are so wonderful.
Words are very powerful.
Words can heal.
Words can kill.
Cyber-bullying
is the use of information technology to repeatedly harm, hurt, harass, embarrass, malign other people deliberately.
According to U.S. Legal Definitions,
Cyber-bullying could be limited to posting rumors or gossips about a person in the internet bringing about hatred in other's minds; or it may go to the extent of personally identifying victims and publishing materials severely defaming and humiliating them.
As per the Wikipedia:
The practice of cyberbullying is not limited to children and, while the behavior is identified by the same definition when practiced by adults, the distinction in age groups sometimes refers to the abuse as cyberstalking or cyberharassment when perpetrated by adults toward adults.

Some people misuse their right to freedom of speech and expression by sending or posting rumors and untruth to damage reputation or cause hurt.
I have been a victim of cyber-harassment.
Case-1
I was new to Blogging, and had won some
prizes in Blogging contests
.
One
blogger publicly accused me of an
unthinkable offence
on a public forum.
I tried to reason out with the blogger privately on a one-to-one-basis, explaining that the charges were baseless as firstly, I had not even read the post & secondly,
my Blog followed the "Pacific Standard Time" and not "Indian Standard Time"
, which meant that my Blog's Time was 13 and a 1/2 hours behind IST.
The bully continued the public tirade. Some others supported the bully.
They thought I was guilty as I said nothing in my defense on the forum. They didn't know of my private communication.
Though I blocked the bully's Social Media account & mail, the bully-
- continued to harass me using other email account, especially when I won future contests!
- called me names and used offensive language.
- accused me of begging for prizes- something that the bully was indulging in!
- claimed that an IP address was mine & accused me of visiting the bully's blog, while I had not visited!
- threatened me for legal action for crimes I had not committed!
I felt so terrible that I wanted to quit Blogging.
But, I realized that if I quit, then everyone will believe that the bully is right!
If I quit & let the bully win, means I lose- honesty and truth lose...
Building From Bullying
I motivated myself- '
Winners never quit & Quitters never win
'.
I put in a lot of time & effort and explored my creativity by writing posts like-
Truth Wins?
Freedom
Following my Mom's advice, I tried to be like the
Lotus
that blossoms in adverse surroundings and remains unaffected by external disturbances.
My posts earned
Votes & Comments
& my Blog got richer with more
awards, posts & page-views
!
Case-2
One blogger commented anonymously on two of my posts in my blog. The bully had an issue with my looks!
What relation do my looks have with my words?
Building From Bullying
I wrote poems about beauty and my self-worth!
Reflections
I, Me, Myself
The above Case-2 incident also inspired me to suggest the following topic for IndiSpire.
My Post-
#TreasuredAssets
Case-3
Recently, another idea of mine got voted as an IndiSpire topic after a gap of 23 weeks of the last voted one (as above). One blogger wrote a post on the same topic and used unkind words for me (directly referring my name) & my topic-suggestion. As per the blogger, my topics get selected every month as I have a "monthly one prompt contract"!
I replied to the mean and unfair remarks/allegations as a comment on the said blog. I quoted the last para from
Dr. Ryan's post- The Response!
that we must not insult fellow-bloggers. I informed that my idea had been voted after 23 weeks & only 4 of my ideas have been voted so far! The bully did not publish my comment!
I remember the same person had issues with a fellow-blogger, Anmol, when the latter's topic- Virginity & character-certificate- was voted & selected as IndiSpire topic. This was Anmol's response:
Virginity: The Issue.
Building From Bullying
It is IndiSpire, not IndiSpite -
INSPIRE, not SPITE!
Bullies inspire me to be more creative, fly & enjoy my flight!
There's very little doubt-
That the bullies want us OUT.
They may want us to suffer/cry.
Let us power our wings & fly!
Here are some quotes-
'Never argue with an idiot. They will only bring you down to their level and beat you with experience.' -

George Carlin


'Never argue with a fool, onlookers may not be able to tell the difference.' -

Mark Twain


'I learned long ago, never to wrestle with a pig. You get dirty, and besides, the pig likes it.' -George Bernard Shaw
'Haathi chaluchi bajaare, Kukura bhokuchi hajaare'.- An Odia saying
English Translation- "When an elephant walks in the bazaar, a thousand dogs bark."
Hope we all are strong like the Elephant and keep walking though the dogs are barking!
May we all
LEARN, HOPE & COPE
.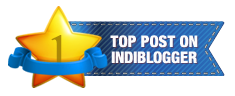 Linking with-
Two Shoes in Texas- OUT
#1000Speak - Building From Bullying
Bloggers can link their #1000Speak posts here.
IndiBloggers can submit their posts here.
Note- I have faced a lot more. I would have never shared all this but for this month's theme for #1000Speak.
Have you faced cyber-bullying? Do share in the comments below.
Let us blog and share #1000Speak
Tweet