Lord Ram's birth is celebrated as
Ram Navami
. It was celebrated yesterday.
During the birth month of Lord Ram i.e. in Chaitra, in Puri, Odisha, India, there are processions with the idols of Lord Ram, Sita & Laxman. There are grand celebrations for 15 days. This is called 'Sahi Jata'. In Odia language, 'Sahi' means locality/street. There is a 'Jatra' /'Yatra'- procession where people wear masks and costumes and there is theatre sort of Odia RamLeela. Residents of different localities of Puri have been taking part in this since 1230 AD: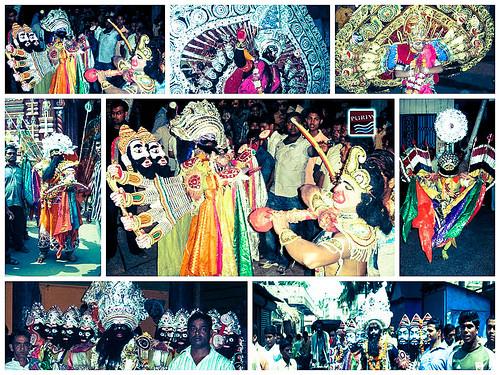 Sahi Jata at Puri, Odisha ; Source
Puri in Odisha, India, is famous for the Shree Jagannath Temple. It is an important place of worship for Hindus.
This year, the
Banajaga Yatra
starts at Puri from today, i.e. March 29th. It is the first act in the Nabakalebara process in which the
Daru
or sacred Neem trees/wood is identified.
The idols of Lord Jagannath and His siblings are to be carved out of the same auspicious wood as per centuries-old customs and rituals. This is called
Nabakalebara
.
Naba means New & Kalebara means Body.
Official Logo of Nabakalebara 2015
Lord Jagannath means the Lord of the Universe. He is believed to be a living God.
The second verse of the second Chapter of Srimat
Bhagavat Gita
mentions:
"...vāsāḿsi jīrṇāni yathā vihāya
navāni gṛhṇāti naro 'parāṇi
tathā śarīrāṇi vihāya jīrṇāny
anyāni saḿyāti navāni dehī..."
English Translation:
As a person puts on new garments by giving up old ones, similarly, the soul accepts new material bodies by giving up the old and useless ones.
Lord Jagannath and His siblings will get new bodies this year.
Puri is a very popular tourist destination. It is also famous for its beautiful beach and super Sand Art.
Internationally-acclaimed sand-artist, Shri Sudarsan Pattnaik created this amazing Sand Art at Puri beach to highlight the start of the Banjaga Yatra for Nabakalebara 2015.
Sand Art by eminent sand-artist Shri Sudarsan Pattnaik at Puri beach, Odisha. Art depicts #Nabakalebara - when new idols of Lord Jagannath & His siblings are carved. In the above Pic (From Right-to-Left)- Sudarshan Chakra, Lord Jagannath, Devi Subhadra, Lord Balabhadra and Shri Sudarsan Pattnaik




Nabakalebara is a rare festival of Odisha. This year, it is happening after a gap of 19 years.
July 18th 2015 will be the Nabakalebara
Rath Yatra
.
Some important dates-
– June 15- Brahma Parivartan programme
– July 17- the Netrosav and Nabajouban besa of the new deities
– July 18- the Rath Yatra or the Car Festival
– July 26- Bahuda Yatra
Have you planned to visit Puri, Odisha, India?
Book your tickets for July 2015.
Note- Odisha Tourism Development Corporation (OTDC) has a special package for Nabakalebara 2015
.
For more information about #Nabakalebara check out the official site-
http://www.nabakalebara.gov.in/