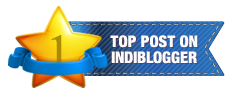 The opposition party's lawyers presented alibi
The Judge wasn't convinced as he trusted me.
"Take your time, prove your innocence!"
To my opponents his words made no sense!
All their unfair attempts were foiled!
Enough of my character they had soiled!
"
Kanoon ke haath lambe hote hain*
"
To find the real culprit, there must be a way!
"Innocent be spared" my defence lawyer said.
Law will soon catch up with the criminal ahead!
But, my hands were tied as I was behind bars.
Tracking the culprit seemed such a farce!
Even a smart culprit leaves some evidence,
Time to outsmart & use a new & different lens!
Plan worked & soon the guilty got their due.
For all your support & help I say 'Thank You!'
I have now been acquitted, no more 'guilty'!
Regaining my freedom from prison, am I free?
Even now those jail-incidents flash in my mind,
I helplessly get transported to that hell I find...
I questioned Lord, "What did you do for me?"
He replied, "I was the Judge, didn't you see?"
Note
-
*Kanoon ke haath lambe hote hain- Law's arms are long
. (Law catches up!)
Linking with-
Poets United - Justice or Poetic Justice