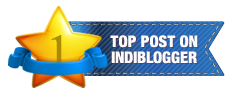 Hope the message has reached & reaches the target audience.
Also hope that it deters brands/Sponsors to organize questionable contests if they can't honour the promised prizes.
After investing a lot of time & effort taking pains to compose a winning-quality Post, if someone is chosen as a winner, the winning makes no sense if there is no respect or sanctity accorded.
One feels quite silly & totally lost!
In a non-Blogging Twitter contest, I had a bad experience in which I didn't get the actual prize I was supposed to win. All the happiness of having been declared as a city-winner, fizzled out when later I saw that the winners of the same contest had indeed enjoyed the prize in its totality in the other cities where the same contest was held...
The optimistic person that I am, I always try to focus on the positive. In this case too, I just dwelt on what I really liked about the event, that I got to attend it - the opportunity that many others didn't have...
It was not my fault that the event was mismanaged as the prize-winners didn't get the chance to click pics with the stars (the prize) while others did by virtue of belonging to the Organizer's family! I have no control over what has already happened. But, I can at least try to think of the positive. Thus, I wrote about my positive experience-
2 States Movie Promotion At Kolkata
!
When something bad happens to us, how we deal with it is important.
Do we withdraw into our shell & be quiet?
Or
Do we complain, quarrel and continue feeling victimized?
Or
Do we gather lessons and quickly share?
But, sad that the human brain has no recycle-bin where we can erase the past.
We can learn valuable lessons & move on.
Why do Bloggers spend extra time writing about experiences/lessons/advice, that too when they are not getting paid for the said posts? There are no prizes too!
Still, Bloggers share pleasant and not so pleasant experiences for free!
While sharing the nice things, it feels great!
But, when we write about something bad that has happened with us, there are three things-
1. It is extremely painful as while writing, we relive the whole experience again and feel terrible and helpless- like sinking into quicksand!
2. We invest further- extra time and effort in sharing our quota of experience.
3. It is cathartic and healing and helps us vent out our feelings, quivering with emotions, and avenge with the do-good assurance that we are saving fellow-Bloggers from future ordeal.
That a Blogger tackles the above points & still shares, shows that she/he cares!
Sharing is caring!
And yes, there are no prizes for these!
I discovered a Blog that shared the real problems and issues. As it shared frank views about politics & social issues, the Blogger must have faced threats or dire consequences.
I was disappointed that the Blogger chose to suppress the free voice...dealt with the bad experiences by deleting the Blog...The Blogger QUIT...
Not only the Blog, the said person totally removed all online presence- by deleting Twitter, FB etc accounts too...
A democracy needs to uphold the truth and original ideas & queries must be encouraged. There are pros and cons and both must be analyzed with balanced views.
Of course, Journalists & Bloggers do that.
But, unlike journalists, (most) Bloggers are not paid!
Dear Bloggers, Thanks for sharing the good and bad with equal elan!
May we have the good sense, responsibility, courage and power to present credible information and share our quota of experiences.
I feel privileged and proud to belong to the elite Bloggers Community.
Thanks for all the support!