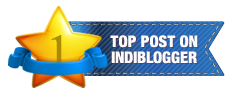 This Post has my comments on Votes & Comments!
And no it's not about India's Elections 2014!
Votes & Comments discussed here pertain to Blogging!
"Wonderful & so very true, Sureshji :)
I feel guilty if I don't return comments/votes. Both need our time.
I invest in both sincerely but don't know how long the party will last! I know that both Votes & Comments reduce without our active participation & investment :) Time is the most important!"
Then, I realized that I have a lot many more words to say about Comments!
Just like Suresh ji, I thought I might share my Comments on Comments too!
I was introduced to the concept of Votes & Comments in Blogging when I joined Blogging sites 10 months ago.
Before that, I did know of Voting in online contests in FB, Twitter, Sponsor's websites etc where the one who garnered max votes was declared as the winner. As I had spent lots of time and effort strategising to win such contests and had unsuccessfully attempted many with negligible success, I was wary of Voting!
Funny that funny incidents happen!
In one particular FB contest, I didn't win despite having the max 'Likes', the best message and the max replies/comments!!! (That was supposed to have made me win!) But, strangely, another person with a few words and a single Like won that FB contest!
In Twitter, gathering max RTs (Retweets) is no mean achievement. But, I have indulged in the madness in the past and NOT won any RT contest!
Now I am a lot wiser & try to stay away from such Vote-hungry Social-Media Contests!
I learnt that the Moral is: One has to Request/BEG to all for that elusive Vote, Like, RT... And invest a lot of Time, Effort & Patience. And then there's no guarantee that one will win!
When I started Blogging, I hardly had any Votes or Comments. All Newbies can identify with this helpless juncture when they post and then a few read and no one comments!
The writer's mind screams- "Even I want many Comments!"
The writer's mind tries to figure out- "How to get more Comments?"
Comments come our way if-
1. We are famous/established
2. Our Post is visible/popular/based on hot or current topics or is featured on the HomePage of Popular sites! (If there are more readers, then our Post will get more comments!)
3. We take part in Blogging Contests- In my case, my contest-entries have garnered higher readership and thus, comments.
Some believe that more votes/comments in Blogging contest-entries will ensure a win. But, from my limited experience, I have learnt that - Max Votes/Comments may not bag us a grand prize in a Blogging contest! In fact, they may be inversely proportional to our win!
Earlier, when I had Mission-ManyComments, I realized 2 points:
1. Why would anyone vote/comment for my Post if I didn't vote/comment for their's?
2. If someone votes/comments for me, I should do the same - at least out of 'courtesy' if not 'returning the favour' or 'Back-scratching'!
Soumya has expressed it as
R-ROI
(Return On Investment)
No doubt that people invest a lot of time & work hard for Voting/Commenting for us.
I feel it is 'pay back' time as that's the least we can do to acknowledge a fellow-Blogger's efforts.
When someone takes pains to comment on my Blog, I feel a moral responsibility to do so.
Personally, I feel guilty if I cannot 'pay back' with a Vote/Comment.
I sincerely post Votes & Comments sometimes at great costs- skipping meals & losing sleep!
Comments are for many reasons-
Here are the Dozen reasons in the Blogger's own words! She/he is perhaps trying to say-
1. I spent time and effort reading & commenting about your Post.

2. Just leaving behind a small evidence that I really visited your Blog!
3. I truly loved/hated reading your Post & I wanna share my feelings.
4. I have extra/common points/experience/message to share. Do read my Post on the same topic as your's

5. I wish to report about the error(s) in your spelling/Grammar/fact..

6. I wish to thank you for sharing such wonderful info/lessons/experiences... that have benefited me.
7. I wish to motivate you. You are excellent! Please keep Blogging!
8. I wish to convey my wishes- Best wishes for the Contest or Congrats for the Win.

9. I have advertised my Blog's address in your Blog. You better hop on to my Blog RIGHT NOW!

10. Do you have better comment-writing skills than I? Prove it by writing a better comment on my Blog!!!

11. I have quoted you and your Post in my Post! Do check it out!
12. I have some queries. Help! SOS! Please answer and help me! Do drop your answer via a comment in my Blog!
(The above list is my creation! Please don't punch me!!!)
I have personally indulged in almost all myself!
Jokes apart, we all love genuine feedback, sincere appreciation, rich suggestions...
We love the feeling that our Posts are read and that our voice is heard far & wide...
Votes & Comments are like gifts- very precious :P
Bloggers love them.
Just loving them is not enough, one ought to "share the love" & have a return-gift ready too!
Here's wishing lots of positive Votes & Comments on everyone's Blog!
P.S- If you can think of extra reasons why Bloggers comment, do post your Comments in the Comments Section below!!!