As per the Wikipedia:
Culture is a word for people's 'way of life', meaning the way groups do things. Different groups of people may have different cultures. Culture is seen in people's writing, religion, music, clothes, cooking, and in what they do.
The concept of culture is very complicated, and the word has many meanings.
The word 'culture' is most commonly used in three ways.


Excellence of taste in the fine arts and humanities, also known as high culture.
An integrated pattern of human knowledge, belief, and behavior.
The outlook, attitudes, values, morals, goals, and customs shared by a society.
Indian culture is Kaleidoscopic.
Indian culture is a rich, vibrant and multifaceted amalgamation of many cultures over several centuries.
The state of affairs
India has
29 states and 7 union-territories
that are further sub-divided into districts and smaller divisions.
'Culture' varies from place to place.
Take the state of
Odisha
for example. There are many forms of Odia language and many dances, customs etc. depending on the geographical locations of places. Many of us are aware of only the important ones...
Sweet differences
Indian culture is like
Rasagola
!
Even the Rasagola, a sweet or dessert that has its birthplace in Odisha, varies from place to place! There are a mind-boggling varieties of Rasagolas, available in different sizes and colours, in Odisha!
Rasagola - a sweet/dessert that originated in Odisha, India
Chariot-Festival or Rath Yatra
Indian culture means centuries-old traditions followed in many temples like the Shri Jagannath Temple in Puri, Odisha
.
Lord Jagannath means- The Lord of the Universe.
Jagannath Dharma
and the lessons from Lord Jagannath are universal.
L-R- Lord Balabhadra, Devi Subhadra, Lord Jagannath ; Source
The skin-color of Lord Balabhadra, His sister, Devi Subhadra and His brother, Lord Jagannath (from left to right in the above pic) are white, yellow & black respectively, representing people from all parts of the world.

This year 2015 is special as it is the time for
Nabakalebara
- when the Gods get new bodies.
Ancient customs are followed even today.
New technology is also present in today's culture! Smartphones and tabs are welcome!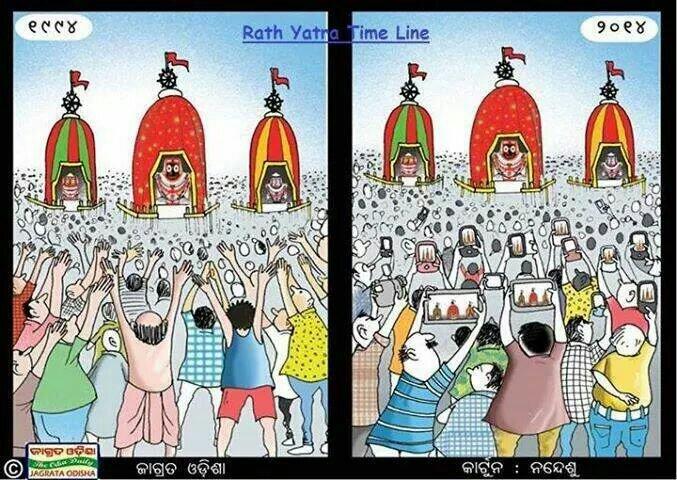 1994 vs. 2014
Indian culture vs. Western culture
The 1970 Hindi movie Purab Aur Paschim (East & West) shows the difference between the culture of India and the West.
In the movie, the hero, an Indian (Manoj Kumar) literally serves as an ambassador for Indian culture-
- Greets with Namaste & touches the feet of elders
- Respects elders by addressing them properly (& not by first name)
- Respects women
The heroine (Saira Banu), though Indian by birth, is Western in her outlook and behaviour as she's brought up in London.
Culture is also about how we are brought up.
I love the lyrics of the song in the following video. The song hails India & Indian culture-
Translation of the above song- "Hai Preet Jahan Ki Reet Sadaa":
"When my India gifted "Zero", then, the world learned to count.
India has first taught the world the language of stars (astronomy).
If India had not gifted the Decimal-system, it'd have been tough to go to the Moon;
It'd have been tough to estimate the distance between the Earth & the Moon.
Where there was the first civilization; the birthplace of Arts- That's our own India.
The World followed India and progressed and kept on progressing.
May God ensure that we progress more and flourish.

I am singing the songs of that land where love is the tradition/culture.
I am an Indian citizen, I'm narrating the tale of India.
There's no difference between Black & White; We connect to every heart.
If we don't know anything else, We know how to shower love.
I'm repeating what the World has already acknowledged.

We may stay in other countries, We have won hearts.
Where even now there's Ram in a male, and Sita in a female.
I bow my head (with respect) as there have been great people.

There's so much love that we even call our rivers as "mother".
There's so much respect that not only people, but stones/rocks are also worshipped.
I am proud to be born on that land.
I am singing the songs of that land where love is the tradition/culture.
I am an Indian citizen, I'm narrating the tale of India."
We are responsible for our culture
The above 1970 movie-song-lyrics may seem idealistic and may not be acceptable in today's age considering some recent happenings.
Our culture says worship the Earth, Air, River etc.
But, we continue polluting these.
We need to focus.
Culture is what we stand for...
You and I are consciously or unconsciously shaping our culture.
The way we behave shows Indian culture.
We must remember that each of us is a brand ambassador of India.
If we behave well, Indian culture earns name, accolades & fame (like in the above video).
I feel Indian culture upholds -
- Vasudhaiva Kutumbaakam- The world is a family.
- Atithi Devo Bhava- Guest is God.
- Unity in Diversity
- Inclusiveness
- Tolerance
- Sacrifice
- Love
- Peace
- Respect
- Justice
- Excellence
- Knowledge
- Karma
This is not an exhaustive list.
Some may argue with the above list as people have different definitions, feelings, interpretations and actions...
Indian culture is broad-minded, not stifling
Unfortunately, many have framed rigid rules that were originally never a part of 'Indian culture'.
For example, education and equality of women.
Ancient India had intelligent women Rishis or saints who composed Sanskrit shlokas, spread knowledge and took part in religious ceremonies - performed sacrifices and worship.
Use Indian goods, Support Indian culture
I feel if we all make an endeavour to support Indian goods and products, we support Indian culture too.
For example, if we wear Indian clothes and gift Indian-made items, we can help contribute to Brand India, 'Make In India' & 'Made In India'.
Incredible Indian culture survives & thrives
May we all follow the path of honesty, fairness, respect, compassion, equality... and uphold India and its values.
There are a lot many points I wish to express...
Indian culture is so vast that this one post CANNOT do justice to it!
I feel 'Indian culture' is strong and accommodating enough to adapt, evolve and survive with the sands of time and winds of change.
That makes India incredible.
Note- These are my personal-views.
I am no moral-police!
I am a conscientious & proud Indian.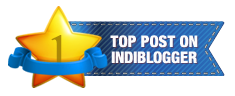 Linking with-
ABC Wednesday- K
Wordless Wednesday#77
& IndiSpire - #IndianCulture