Odisha has a rich tradition and history of handicrafts and handlooms.
As per historians, handloom weaving in Odisha dates to 600 BC. Human figures sculpted on the centuries old temples reflect stylistic draping of clothes.
The Odisha "tie and dye" fabrics and sarees are called "Bandha".
They are also popularly known as "Ikat" in India. The meaning of Bandha and Ikat in Odia and Malay languages respectively is the same- to tie or wind.
According to historians, Bandha is Odisha state's heritage and historical maritime trade link with Indonesia.
The warp or weft or both are tied and then dyed as per the pre-planned designs. Then, these threads are used for weaving. The designs seem the same on both side of the fabrics.
There are three types of Bandha/Ikat fabrics namely:
Single Ikat- Fabrics are woven with tie and dye process either on warp or weft -

either the warp or weft thread is dyed - in

Nuapatna in Cuttack district and other places in Odisha -

'

Khandua Saree and Fabrics

' is Single Ikat.
Combined Ikat- Fabrics where both warp and weft Ikat coexist in different parts of the fabric.
Double Ikat- Fabrics are woven with tie and dye design on both the warp and weft -

both the warp and weft are dyed before weaving -

Bargarh & Sonepur are the major handloom clusters for production of Double Ikat fabrics in Odisha. W

eavers from some parts of western Odisha weave the beautiful and colourful Sambalpuri Sarees.
The throw of the dice in a game of '
pasa
' decided the epic Mahabharata's course. Like the
pasa
game board, weavers of Bargarh weave colourful chequered pattern saris.
Sambalpuri Bandha has got the Geographical Indications (GI) tag.
This unique handloom has a wide variety of styles, colours, designs and motifs.
Odisha's rich natural beauty such as plants, birds, elephants, temples, geometric patterns etc. are skilfully woven and find expression.
These handlooms are also being used to make shirts, jackets, scarves etc.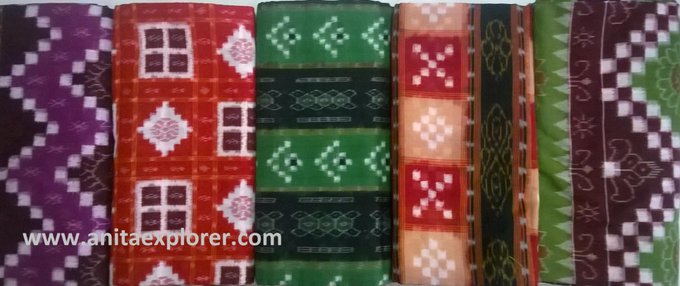 Great to see Odisha's Ikat cloth (both single Ikat and double Ikat) now being used by all.
But, many people have the wrong impression that Odisha Handloom or Orissa Ikat and Sampalpuri Bandha are synonymous.
Note- Sambalpuri Bandha is a type of Odisha Bandha i.e. Orissa Ikat.
Look at how Sambalpuri Bandha and Odisha Handloom cloth is being used to create masks during this Covid-19 lockdown:
Watch how Padma Shri Sudarsan Pattnaik uses Sambalpuri Bandha to demonstrate making his own mask and to be safe during this Coronavirus pandemic.
— anitaexplorer (@anitaexplorer) April 10, 2020
Utkalamrita, brand of Sabat Exports Private Ltd., based in Bhubaneswar, has been making Orissa Ikat masks since March 2020, even before the Covid-19 lockdown was announced.
Note-
The cloth used in the following video is Orissa Ikat (made in Nuapatna) and NOT Sambalpuri Bandha.
— Utkalamrita (@Utkalamrita) March 18, 2020
Here's a tutorial how to make a mask using handloom cloth:
— Arabinda K Padhee (@arvindpadhee) April 12, 2020
Sambalpuri handloom has been my favourite for years. Given a choice of products, I always like to use and promote Odisha Handloom and Sambalpuri Bandha products.
Design and pattern copying is a major point of concern, not only for Sambalpuri Bandha Saaree and Fabrics, but for other handloom GIs of Odisha and India.
— anitaexplorer (@anitaexplorer) May 7, 2018
You can read more in this blog-
YES to Geographical Indications; NO to Fake products.
Do join for the #GIQuiz and #KnowYourGI this World Intellectual Property Day.

S For- Sambalpuri
Sambalpuri Bandha Saree & Fabrics
I am writing A-Z posts about the Geographical Indications (GIs) of Odisha #OdishaGI
.
GI is a distinctive certificate used to identify a product as originating from a particular region or locality that has specific qualities, reputation or other unique characteristics.
GI products are linked with the culture, traditions, history etc. of a geographical location.
Only when info is shared, people can learn and be aware.
This is my sincere attempt to share information about the GI Tags of Odisha.
You can check out my other GI posts here.
My previous #AToZChallenge posts here.