Odisha has a variety of unique handlooms. As per records, handloom weaving in Odisha goes back to 600 BC.
While many saree lovers know the name of Sambalpuri saree, the other names are not that well known.
Do you know about "Bomkai Sarees and Fabrics"?
Bomkai is the name of a village in Ganjam district in southern Odisha in India.
It lends its name to the 'Bomkai Saree and Fabrics'.
Bomkai Saree & Fabrics are a GI of Odisha.
Bomkai Saree is a handloom saree from Odisha, India that originated in Bomkai, Ganjam district.
Bomkai Saree has rich traditional floral, ornamental and attractive designs and motifs like flowers (Kanthiphula, Atasi, Bitter gourd, Lotus etc), birds, deer, fish, damru, dancing dolls, tortoise, creepers etc.
Rows of Kumbha (temple spires) are favourite border motifs.
The tie and dye weaving in western Odisha came into existence during the mid 14th century when the then ruler of Patnagarh Sri Ramai Dev encouraged weavers. The weavers took the title as "Meher" and their caste is known as "Bhulia".
Now, Bomkai is mostly produced by the "Bhulia" community. Apart from Ganjam district, the production area covers many districts like- Sonepur, Bargarh, Boudh, Angul and Cuttack.
Bomkai is the name of a design woven in handloom using Jalla technique.
It is an extra weft design with single colour or multi colour weft on the cloth.The designs are woven on one side of the fabric only. The solid border, anchal and body designs are combined with Ikat (Bandha) technique.
#sareeswag

. This is what is commonly known as a

#Bomkai

saree, named after the Bomkai village. The pallu is woven with exquisite extra weft threadwork. Nowadays, these sarees are woven in

#Sonepur

village in Western

#Odisha

by weavers from Bhulia community. It is GI tagged

pic.twitter.com/aRNQnwAgMC

— Shefali Vaidya. (@ShefVaidya) September 18, 2019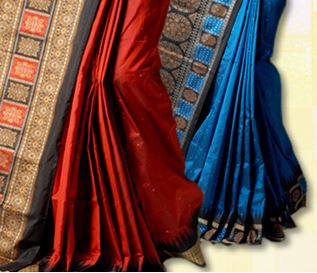 Traditional original Bomkai is also being produced in the place of origin. However, as very few weavers are weaving these, these are rare and expensive.
I request the Odisha state government to please take initiatives for training the next generation so that this lovely traditional art and heritage product can be passed on.
L For- Lovely
Lovely Bomkai Saree And Fabrics
GI is a distinctive certificate used to identify a product as originating from a particular region or locality that has specific qualities, reputation or other unique characteristics.

GI products are linked with the culture, traditions, history etc. of a geographical location.
Only when info is shared, people can learn and be aware.
This is my sincere attempt to share information about the GI-Tags of Odisha.
Let us all use GI products - the "invaluable treasures of incredible India", and encourage our artisans, weavers, and farmers.
Are you aware of Geographical Indications?
Had you heard of Bomkai Saree and Fabrics?
Please do share in the comments below.