Ikat is a Malay word that is derived from the word "Mangikat" that means to bind, knoot or wind round. Ikat is a process of tie-and-dye weaving of handlooms. There are different names of Ikat available in different regions of India some of which have earned the Geographical Indications (GI) tag viz.-
Pochampally Ikat in Telangana, Patan Patola in Gujarat etc.
Orissa Ikat refers to the Ikat made in Odisha.
It is also called "Bandha kala" in Odisha. Bandha means Ikat and kala means art.
Watch how Padma Shri Sudarsan Pattnaik uses Orissa Ikat to demonstrate making his own mask and to be safe during this Coronavirus pandemic.
— anitaexplorer (@anitaexplorer) April 10, 2020
Orissa Ikat
is a GI of Odisha, India.
Grouping of threads for tying and dying in Orissa Ikat is carried out in minimum two and maximum four threads, which technique is not used in any other Ikat of India.
Certificate Date: 2/6/2005
Odisha state's name's spelling has been changed in 2011.
As the Geographical Indications (GI) Application was filed in 2005, thus it is referred as Orissa Ikat.
The old spelling of Odisha i.e. Orissa is a part of the GI name as Odisha state's name change from Orissa to Odisha was done six years after filing the GI application.
As per records, handloom weaving in Odisha has been continuing from 600 BC.
Similar Bandha/Ikat is also seen in South East Asian nations like Bali, Indonesia.
— Odita Trust (@OditaTrust) February 15, 2020
Earlier, the Sadhabas (traders) of Odisha used to travel to many lands by sailing across the seas with such treasures like the Bandha of Kalinga and established connection and maritime trade with many lands. Even today, ancient boats are handwoven on sarees.
Orissa Ikat Saree with Boats depicting maritime trade of Odisha
Orissa Ikat handloom fabrics are on Cotton, Silk, Tussar and their combinations.
Centuries-old tie and dye yarn technique is used. It is either in warp or in weft , so called Warp Ikat or Weft Ikat (i.e. Single Ikat);
or in both warp and weft threads, so called
Double Ikat.
Fine, sharp, artistic curvilinear designs with detailed and natural figures and auspicious symbols can be seen on Orissa Ikat sarees and fabrics. Human figures, Lion, Tiger, Elephant, Fish, Lotus, Lata (Creeper), Deuli (Temple), Conch etc.
Figures and letters (calligraphy) of any shape and colour are produced with prominence and accuracy. The above Bandha work is a wall hanging with the figure of a famous poet of Odisha- Gangadhar Meher and his words have been woven in Odia.
The design is first created on the loom. The weavers weave many unique designs including figures and text (calligraphy) in various languages, especially in Odia. Bandha fabrics of Odisha are done by Bhulia Meher Kustha, Ganda, Salvi, Gaudia-Patra, Asani-Patra, Padmasali and Devanga weavers.
Verses from "Gita Govinda" written by poet Jayadeva, are also being woven on Orissa Ikat from centuries.
Odisha's Ikat brought to visitors of

#GESIndia2019

silk and cotton fabrics bathed and glittered in colourful patterns. Ikat patterns are dyed and binded into the threads before the cloth is weaved, thus setting them apart from Tie and Dye processes.

#WAHGI pic.twitter.com/BLUzEQP61N

— CIPAM (@CIPAM_India) November 28, 2019
I For- Ikat
Orissa Ikat
I is also for- Intellectual Property Rights (IPR)
GI is a type of IPR.
GI products are linked with the culture, traditions, history, reputation etc. of a geographical location.
Only when info is shared, people can learn and be aware.
This is my sincere attempt to share information about the GI-Tags of Odisha.
Let us all use GI products - the "invaluable treasures of incredible India", and encourage our artisans, weavers, and farmers.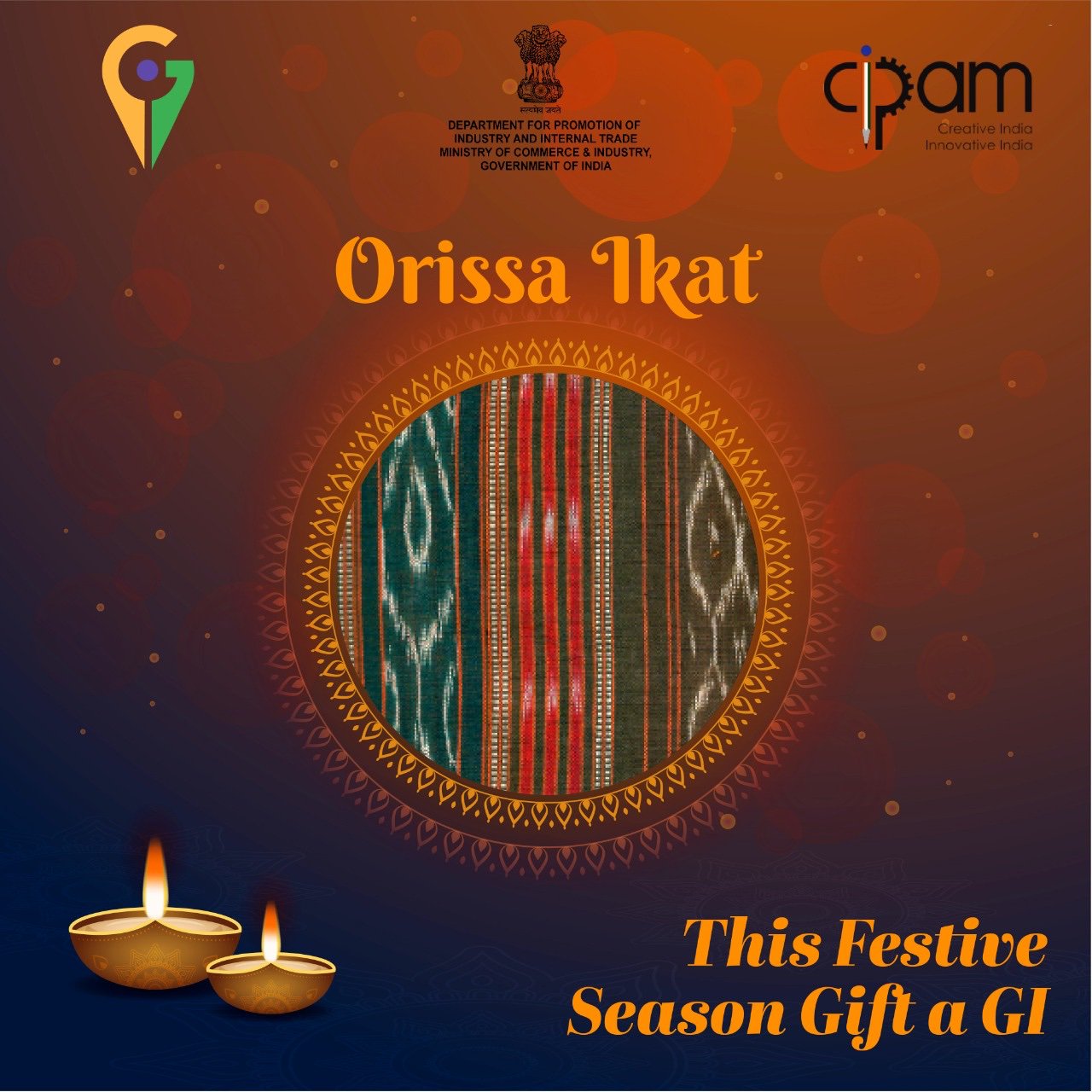 Are you aware of Geographical Indications?
Do you have Orissa Ikat saree or dress in your wardrobe?
Please do share in the comments below.