"A Geographical Indication (GI) is an agricultural, natural or a manufactured product (handicrafts and industrial goods) originating from a definite geographical territory".
A traditional, unique, or reputed agricultural, natural or a manufactured cultural product earns

the GI

tag for a geographical region on the basis of the application submitted.
GI is a type of Intellectual Property Rights (IPR). GI is an IPR that is a community right.
India has many handloom fabrics and sarees that have the GI tag.
Odisha is just one of the 28 states of India.
Odisha has a beautiful handloom heritage. Many communities in different parts of Odisha have been weaving handlooms for centuries. As per records, handloom weaving in Odisha goes back to 600 BC. Many traditional sarees and fabrics are still handwoven on looms today. The beautiful fabrics and sarees are to be seen to be believed.
Odisha GIs
Some of the handicrafts of Odisha have earned the GI tag.
Out of the 17 GIs of Odisha, the following 9 handlooms pertain to fabrics/sarees that have the GI tags:
(1) Kotpad Handloom Fabric
(2) Orissa Ikat

(3) Khandua Saree and Fabrics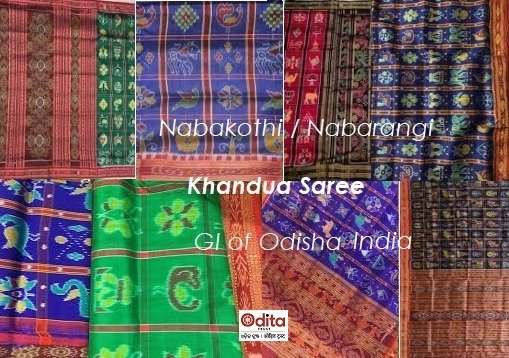 (4) Gopalpur Tussar Fabrics
(5) Dhalapathar Parda & Fabrics
(6) Sambalpuri Bandha Saree & Fabrics
(9) Berhampur Patta (Phoda Kumbha) Saree & Joda
You can also read about
some of the above here-
Handlooms of Odisha
.
I have already written blog posts about some of these sarees and fabrics and will be covering the rest in separate posts.
The handloom map of Odisha is very rich and colourful. There are still many more fabrics and sarees of Odisha that are yet to earn earn the GI Tag.
F For- Fabrics
F is also for- Flower - Many fabrics have beautiful flowers handwoven on them.
We will discuss about Ganjam Kewda Flower & Rooh in the next post i.e. for G
I am writing A-Z posts about the Geographical Indications (GIs) of Odisha #OdishaGI.
GI products are linked with the culture, traditions, history, reputation etc. of a geographical location.
Only when info is shared, people can learn and be aware.
This is my sincere attempt to share information about the GI-Tags of Odisha.
You can check out my other GI posts here.
My previous #AToZChallenge posts here.
Let us all use GI products - the "invaluable treasures of incredible India", and encourage our artisans, weavers, and farmers.
Are you aware of Geographical Indications? Do
you have handloom fabrics in your wardrobe?
Please do share in the comments below.