I was learning to drive a mini-bus when I met with an accident & revisited my past-life…
PHOTO PROMPT -Copyright-Roger Bultot
I was hurrying to the railway-station and I missed my train.
While I was waiting for the next, I saw him in the rain & it was love at first sight for me & for him too as he proposed when we boarded the train...
A familiar voice said, "Help is here! I'll rescue you, Miss!"
As he again took my hand in his, I thanked God for making me miss my train in my past-life & for the accident in this one…
(100 Words)
This post is a part of
Write Over the Weekend
, an initiative for
Indian Bloggers
by BlogAdda.
Include this line in your post: '….and I missed my train.'
This is also my 100 Words & Five Sentence Fiction for-
Friday Fictioneers
&
Five Sentence Fiction- Waiting
Also linking this to- IndiSpire- Edition#40 -
What do you think you were in your past life? Share the experience of your intuitions! #IntuitionofMyPastLife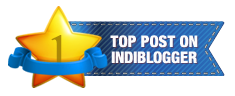 If you liked this story about reincarnation, you might also like my Bollywood-style Story-Poem-
Tattoo Love-Story
Have you had a similar intuition?
Do you believe in reincarnation?
Do share.