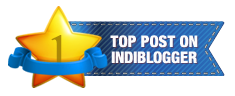 The rains had just stopped & I stepped out in style.
The street welcomed; a starry sky stretched for a mile!
My Street on Eid! Copyright- Anita
Pink, blue & green lights sparkled & faces glowed happily,
Dressed in new clothes, passers-by were chatting excitedly.
I wished everyone 'Eid Mubarak' & heard the same greeting.
Belonging to India is a blessing that's incredible & amazing.
On Holi, Diwali, Christmas & Baisakhi, we celebrate together.
Another arm to tie a Rakhi, we earn another friend/sister/brother.
I may have been born in a family following a different religion,
But, I respect all irrespective of their religion/language/region...
Church/Mosque/Monastery... every place of worship is divine.
Celebrating festivals together, sharing food & fun & help is fine!
Incredible India wins over everyone easily & so magically!
This is my India; I belong everywhere & this is my family...
When I walk on our streets, I feel independent & free everyday!
Jai Hind
!
Vande Mataram
!
Jai Ho
!
Happy Independence Day!
My Pic For Wordless Wednesday #47 - My explanation-
Hands are used to decorate the lights on the street.
Hands are used to pray & also to hug & to greet.
Hands are used to hold our National Flag on every date-
Hands help us to feel proud & celebrate ...
There's a lot yet to be improved & yet to be done in our nation...
Still there are reasons to feel proud & to be a part of the celebration.
Together we can help create the India of our dreams & aspiration.
Here's wishing a very Happy Independence Day to everyone.