This post is one of the Top Posts of 2014 in the list compiled by IndiBlogger.
Virginity
means - '
Sexual abstinence before marriage
'.
Virginity is sacred as per traditional beliefs, values, culture and religions.
Virginity also means '
purity' (of thoughts and action).
As mythology & history prove, it's perfectly justified if the men lose their virginity, marry one partner, have extra-marital affairs or additional marriages!
But, as per Indian culture, girls/women are not supposed to 'think' about or 'entertain' any other person apart from their spouse...
Married women haven't had a better deal...
Devi
Ahalya
was cursed and turned into a stone by her angry husband- Gautama Maharishi, when it was not her fault. The King of Gods, Indra, had come disguised as her husband & she had entertained him... Later, Shri Ram freed her from the curse.
Fingers were raised at yet another Panchakanya, Mata Sita as she had spent time 'in Lanka' with Ravana. Mata Sita had to take the
Agni Pariksha
(Fire Test) to prove her
purity
though she was the wife of
Maryada Purshottam
Shri Ram...

Why is the society so unfair to the girls or women?
Why is men's virginity never an issue?
Why are the rules so different for men and women?
From what I know- Even today, girls & women have to follow many Rules & Do's & Don'ts, that are not applicable to the male-members of their family.
A popular ad asks- "Why should boys have all the fun?"
We are living in the 21st Century, right?
Does it mean we follow the movie
SHUDH DESI ROMANCE
, get confused and allow & sing- "
Chanchal Mann Ati Random..Fisal Gayo Re
!" (Roving mind, very fast, slipped away!)
In the blockbuster Bollywood movie, Hum Aapke Hain Koun...!, the family is playing the game pass-the-parcel.
That's when the Boy- Prem (Salman Khan) WINKS at the Girl- Nisha (Madhuri Dixit).
Just then the music stops and the family says it is Nisha's turn.
Nisha protests saying that Prem has done cheating.
When the family wants to learn how Prem has cheated, Nisha doesn't want to tell them that he has WINKED.

Consequently, Nisha accepts her punishment that is not her due.
Later, in the same movie we find that this modern young woman, who's studying 'Computers', agrees to marry her widower brother-in-law, though she loves Prem...
Sometimes, we don't lie/fake, we are silent as we are embarrassed to disclose the reality and thus withhold the truth and even accept what's unfair.

From what I know- As per Indian culture, for an unmarried girl, even a male's wink, gaze, touch... is a no-no. Marriage sanctifies all this.

That's the reason why women were not allowed to act in the first several Hindi movies (Male actors played the roles of heroines.)

From what I know- In India, the virginity of a woman IS a character certificate.
(Wish it were for men too, but it's not. Unfair that men & women have different character certificates.)
As for a man, we can never know, unless we find he has posted those kinds of pics/videos in online social-networking sites. As the ad goes, only then there is "No Ulloo-Banoing"!
From what I know- Women karein "to character dheela hai"!
(Quoting the lyrics of a song from the movie- Ready)
From what I know- Bharatiya Naari's izzat (Indian woman's honor/respect) is held in high esteem and is important.
In the Blockbuster movie- Dilwale Dulhaniya Le Jayenge (DDLJ), the Girl (Kajol) is shocked that she might have lost her virginity after a drunken-night in Europe. The Boy (SRK), assures her that it is intact as he understands its worth for an Indian woman.
In DDLJ, though the Girl is brought up in London, she still believes in Indian 'values'- Virginity definitely being top on the list. We find that her London-bred suitor is far more Indian culture-conscious than the Punjabi Boy fixed by her father.
In Bollywood movies we have seen the treatment meted to unmarried women who have lost their virginity and worse, are pregnant. They get to earn the society's wrath referred to by terms such as- "Mooh Kaala","Kalmoohi", "Kalank", "Dhabba" (Face-Black, Shameful, Dark Spot, Blot)...
The movies have shown them resorting to suicide or taking revenge.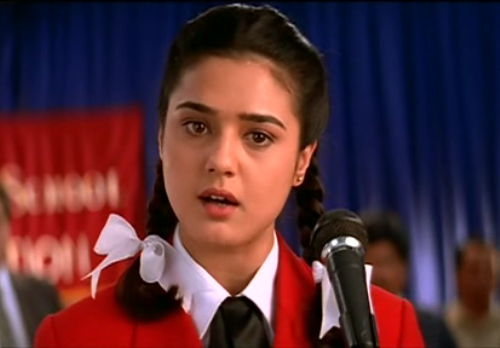 The Preity Zinta starrer- Kya Kehna shows the story of a Girl-student who loses her virginity and becomes an unwed mother. Her school-friends humiliate her. They even stage a play that slanders her 'character' and portrays that she should go into hiding out of shame...

The Boy (Saif Ali) responsible for the act, never owns up nor is he or his family scandalized. The Girl and her family has to face the society's ill-treatment. At the end, when he's willing to accept her, she decides to marry another guy (Chandrachud Singh) who loves her despite her condition.

The Girl chooses the other guy & not her unborn baby's father as her partner as he accepts her for what she is, and not as he is forced to take up her responsibility because of her situation.
From what I know- It is illegal for 'Children' or those who aren't 'adults' yet, to indulge in such acts. But unfortunately, such incidents are on the rise...


I feel - we are responsible for our Virginity. It needs care till we reach the right legal age and appropriate state of mind.
If everyone treats Virginity with responsibility & sanctity, then there will be lesser abortion-cases involving school-girls and unmarried women…
In the recently released movie,
HOLIDAY
, marriage-match-fixing of the Boy & Girl (played by Akshay Kumar & Sonakshi Sinha respectively) is being considered.
Boy rejects the Girl after meeting her for the first time.
His reasons for rejection are:
1. Girl has one-and-a-half metres long hair & she'll take 6 hours to comb them. Imagine the time-wastage when they have to go out!
2. Girl is '
Sharmeeli & Darpok
' (Shy & Scared)
3. Girl looks like '
Abhi abhi gaon se ayee hai
' (just now she's arrived from a village). He wants a girl who's stylish.
The audience later learns that the Girl's personality is totally different from what she portrayed in front of the Boy & his family.
From what I know- In India, faking the reality of the Girl is common when she's paraded during marriage-match-making just as fudging the age/educational-qualifications/salary etc of the girl/boy is, so that the match can be fixed...
When the Boy meets her later, he falls in love with the Girl's real 'character' as that's what he is looking for... Ironically, he accepts her real personality - the same that her family was trying to hide...
Rejection is turned into acceptance.
Later, in the movie
HOLIDAY
, Girl approaches Boy to show her interest for the marriage-proposal.
Boy asks the girl: Do you smoke cigarettes?
Girl answers: Chhee Chhee... (in other words, she dislikes cigarette-smoking & doesn't smoke)
Boy tells the Girl: But, I like girls who smoke.
Girl 'admits' to the Boy: Sometimes, I have smoked! (as she is desperate to marry him, despite being a non-smoker she agrees to be something she is not in reality- a smoker!)
Boy asks the Girl: Do you drink alcohol?
Girl answers: With my friends I have shared drinks! (by now we know that she is faking her answers as she feels the Boy likes girls who drink alcohol as well!)
Boy tells the Girl: I hate girls who drink!
Girl starts crying!
We understand the intentions of both the Boy and the Girl...
(
This was supposed to be a romantic comedy scene in the serious action movie-
HOLIDAY
)
Why have I shared the above scene? To illustrate that Boys & Girls 'fake' the answers to get desired results.
From what I know- In India, faking Virginity-Status is common during marriage-match-making so that the marriage can be fixed, just as fudging the day/date/time of birth of the girl/boy is so that the horoscopes can match...

True love is when we love someone for what they are- irrespective of any barriers- their virginity-status, educational-status, day/date/time of birth, bank-balance, salary, age, gender, caste, religion, country...

If virginity was not a character-certificate, why would anyone fake answers?

If virginity was not a character-certificate, everyone would have been truthful and there would be no double-standards...

One of the prospective brides, the Boy goes to 'see' in the movie, What's Your Raashee?, is not a virgin.
The Girl honestly confides to her suitor that she had loved & trusted & lost her virginity to her neighbour, who is now married to another girl...
In the movie, the sensible & empathetic Boy is not shown to have rejected her on the grounds that she is not a virgin...
From what I know- In many real-life cases, women who have shared the truth about their lost-virginity-status, have been rejected...
This is really unfair as the women who do share info about their personal lives, wish to start the new relationship with trust.
We may be rejected by the same person who's responsible for our loss!
We may share the truth, but the alliance may not work.
We may be rejected because we have shared the truth!
From what I know- We keep reading or hearing news like this.
I consider it is double-standards and shocking when the men who are responsible for the loss of the virginity of women, refuse to marry them on the pretext that the same women are no longer virgins & their family wants them to marry virgins! Strange when a non-virgin rejects another non-virgin as the latter is a non-virgin!
The same men are no longer virgins too, but why no 'issue' over the 'tissue' for them?
In the movie
2 States
, boy and girl together have lost their virginity. Those hailing from 'cultured' families indulge in acts that they know their parents will never approve.

Girl: Was this your first time?
Boy: With you? Yes!
The 'children' withhold all the info about their 'private' moments from their parents and continue the 'action'. They struggle to convince their parents, who oblivious of what their children are up to, are looking for prospective brides and grooms to get their children settled!
The movie based on the book has a happy ending and the boy and girl finally get to marry.
Imagine- What if the boy's father had not set things right in
2 States?
What if the non-virgin Boy and Girl would have had to get married in their 'communities' and never disclosed their lost-virginity-status to their new partners?
What if the persons they got married to had also indulged in similar pre-marital sexual acts, and worse, were suffering from HIV/AIDS?
From what I know- A new relationship should be on the basis of truth, trust, commitment, understanding... certainly not otherwise.
I feel we have one life and we have every right and freedom to decide how we wish to live.
I feel- Both Boys & Girls should be like Queen & make a conscious choice to do the right thing. Queen doesn't do what she is uncomfortable with, though her friend wants her to...
Also, she shares the same room with three members of the opposite sex and still maintains her Virginity-Status.
Though this was taboo for her mentally-impure fiance!
Virginity (of Boys/Girls) may be lost for many reasons, sometimes for no fault of a person.
If virginity was not a character-certificate, why would girls/women pay exorbitantly for Hymen-reconstruction/
Hymenorrhaphy/Hymenoplasty?
Some years ago, I was shocked to read an article in a popular Woman's magazine. The report was about girls resorting to this procedure even though technically they were 'Virgins', just because their Hymen had got ruptured
by other means. Hymen-reconstruction was important to prove that they were Virgins though they were so in reality...
The girls feared that their 'character' might be doubted by their would-be partners. The girls felt- 'prevention is better than the cure'.
Many times the individual (Girl/Boy) consciously makes a choice & does what she/he wants, sometimes not bothering about the consequences.
My point is- Once we do an action like losing our Virginity, we ought to be honest & open.
People hide the truth as they consider that "virginity is a character-certificate" & fear rejection. But, what if their partner discovers the truth later?
A person (Boy/Girl) may 'save' himself/herself as that's their belief, however their partner (considered for marriage) may be subscribing to a different belief... I feel it's best if partners know of one another's beliefs before a lifetime's union. If a person has conservative views and has 'preserved' self for that special non-virgin person, then it's a violation of trust & unfair if the latter 'cheats' by hiding their lost-virginity-status.
A Girl may want a Virgin-husband for herself. Then, before marriage, the Girl may inquire to the Boy just like the Girl (Preity Zinta) had asked the Boy (SRK) in the movie- Dil Se-
"ARE YOU A VIRGIN?
"
Do watch this YouTube video:
There's no way either can prove their true Virginity status...
I feel trust & truth, & a level of maturity amongst others, are essential for relationships.
Topic posted by Anmol
Note-
These are my personal views from the Movies I have watched and the News I have read & heard. I believe even you have watched many of these Movies and have never thought about these scenes so deeply
... I feel real-life inspires the reel-life and vice-versa.
I am a Bollywood Movies fan.
I am a Parent.
I AM NO MORAL POLICE.
I respect your views and outlook.
All the images are from Google Images.
Leaving you with some Virginity tweets from Twitter: