I signed up for my Blog & joined Blogging in August 2012.
I joined IndiBlogger and other Blogging sites like BlogAdda 11 months ago in July 2013.
Then
:
My Blog had less than 10 Posts, less than 10 Followers, less than 10 Comments & less than 1000 Page-Views.
Now
:
Just yesterday it has clocked 1,00,000 Page-Views!
Now my Blog is
richer
with –
Posts, Followers, Page-Views, Votes & Comments
…
I have earned-
Lessons, Advice, Suggestions, Support, Hope, Appreciation, Network, Readers, Friends, Awards, Accolades, Prizes, Badges
...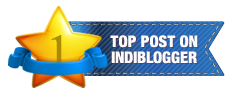 I feel blessed by interacting with IndiBloggers from across the world.
Lovely to belong to such a lovely extended family :)
The
CONTEST JUNKIE
in me is happy!
In the past 11 months, I have learnt about Blogging. Though I had a Blog for almost a year before joining IB, I wasn't aware & had never focused on my Blog's technicalities.
I learnt about TIME factor in Blogging.
Based on experienced Bloggers' advice, I publish & post my Blog's Contest-entries close to the Contest-deadline.
After an IB Forum discussion for one Contest, I researched & found that my Blog was following 'Pacific Standard Time' & not Indian Standard Time (IST). I was so ignorant! As my Blog followed "Pacific Standard Time", my Blog's Time was 13 & half hours behind IST.
So 10:42 (AM) 21st November in a Post on my Blog actually meant - 00:12 AM 22nd November.
Though I had first published my Post in my Blog at 00:12 AM & submitted it for the IB Contest, I now understood why my Blog's posting time & comment-time was different than the India time!
Later, I checked out my "Post Settings" and made the change in the TIME that my Blog follows!
Presently my Blog has IST.
(Task for you- Time to check- Which TIME does your Blog follow?!)
After joining IB, I have focused a major portion of my TIME on my Blog. I have made major sacrifices and worked very hard for my Posts. I have also been Cinderella many times where I have had to stick to the deadline- Before 12 AM, Midnight!
I learnt-
I acknowledge that there are many creative brains that share the same ideas and beliefs as me & think and write the way I do. Many times I have read posts on IndiVine that have dealt with ideas/topics that I have been planning to write! They had said it exactly the same way I wanted to say!
I have got plenty of such 'MY-KIND-OF-A-POST' opportunities! In Contest Posts, I found some IndiBloggers had the same Title of their Post as I had, while others had some points or similar images in common with mine. Great minds think alike!
I learnt-
To challenge myself to think different and to accept results. Though my great thought & effort for my Contest Posts has won some contests, yet I have not won even a Consolation prize in many – some of which are still amongst the most Popular Posts of my Blog!
I realize that what I consider 'Prize-winning Posts' may not be as per the Judges' perspective.
For a writer, readers and their views are important. Positive feedback and compliments are inspiring.
Last week I was thrilled to find my Blog amongst the
Top Indian Blogs of 2013-14
!
My Blogging story would have been different without IndiBlogger.
I want to thank the kind, helpful & supportive IndiBloggers Community.
You folks rock!
Thanks a lot, IndiBlogger & IndiBloggers!
Best wishes for all!
Keep Blogging!
For IndiSpire- Topic- 16