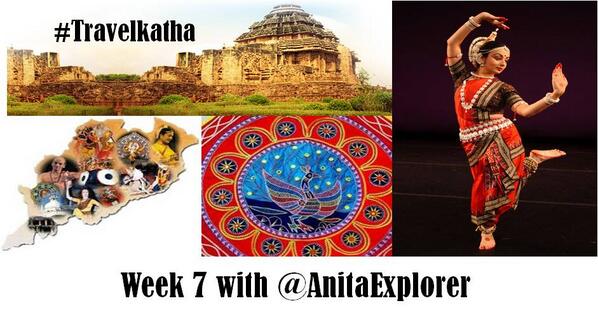 I shared a poem & images in 'Guess This Place!'.
The 'Place' is- Odisha.
Recently, I got to conduct an Odisha Quiz in Twitter - My First Twitter Contest As A Curator
.
Here are the Q & As for you to check out your OQ- Odisha Quotient!

Q1- This depicts the Rath Yatra. What are such traditional paintings
of Odisha called?
A1- Pattachitra
Q2- Which place of Odisha is famous for such colorful applique works
that are also named after the place?
A2- Pipili


Q3- Which city, famous for such Tarakasi (Silver Filigree), was the pr
evious capital of Odisha?
Tarakasi or Silver Filigree
A3- Cuttack


Q4- The Shanti Stupa at Dhauligiri is on the banks of which river of
Odisha?
The Shanti Stupa, Dhauligiri
A4- Dayanadi or Daya River


Q5- Identify this traditional cheese-based syrupy sweet-dish that
originated in Odisha.
A5- Rasgulla/
Rasagola
Q6- What do the #Odisha attractions- Atri, Deulajhari, Taptapani & Tarabalo have
in common?
A6- Hot-Springs


Q7. Rushikulya Estuary & Gahirmatha Sanctuary in Odisha are famous
for which marine creature?
A7- Olive Ridley Turtles


Q8. Which city of Odisha is known as the 'City of Temples' as at one
time it's said to have 100,000 temples?
A8- Bhubaneswar


Q9. Name Asia's largest brackish water lake that is in Odisha.
A9- The Chilika Lake
Q10. How many Wheels are there in this UNESCO World heritage monument
in Odisha ?
A10- 24 Wheels in the Sun Temple, Konark.
How many answers did you get right?
Please do share!
Learn more about Odisha from the- Odisha Tourism Government Website