Poverty has its repercussions and a direct impact on hunger & education.
It is sad that millions of children have to choose between hunger and education everyday.
Attending school ought to be every child's right.
However, the Right To Education & attending school is the privilege of a few lucky children.
Why can't we ensure every kid is 'lucky' this way?
Is it so tough to ensure that every child gets even one square meal a day?
For a majority, attending school entails missing out on a major part of the day & hence missing to contribute to the family-income. Tiny hands happen to be the helping-hands and support system that need to be "employed" to help sustain their family. Their parents have no option as they too are driven by basic necessities like hunger…
'Peyt ka sawaal hai'(It's a question of the stomach).
Hunger can drive people to any extent. They can indulge in anti-social activities & crimes even to satisfy their hunger.
While hunger & being compelled to work to contribute to the income, can be a demotivating factor, hunger can also be a motivating factor when it's employed gainfully for education.
Imagine a school where there's free and wholesome food available for kids.
Children learn and also get to earn good food- get to eat healthy food & satisfy their hunger.
It's a win-win situation.
Parents dream of the best for their kids - better health, environment & secure future for their kids.
Parents love when their kids get good quality nutritious food to eat and also get well-educated.
Thankfully, dreams become reality with organizations like
Akshaya Patra
that provide mid-day meals in schools and end classroom hunger.
I believe- Individual efforts can join in together to give a big push through collective force.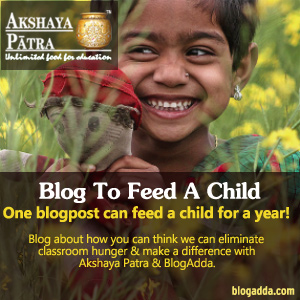 How we can help:
We can all make a big difference by-
Supporting the cause of organizations like Akshaya Patra
Participating in own company's CSR activities
Contributing monetarily.
Spending resources like time & effort
Raising awareness by personal interaction
Writing blog posts. We can Write To Make Things Right
Sharing information on print media & social media
Feeding children, ending classroom hunger and providing education to children in India are achievable goals if we all unitedly contribute for this noble cause.
The idea is to actively share-
Let us inform and make everyone aware.
Note- Drops of water make an ocean-
Can address hunger & provide education.
Change lives with planning & implementation.
Change the situation with ready solution...
After all, our country's future is at stake.
Won't we contribute for our nation's sake?


Thanks a lot, Blogadda & Akshaya Patra, for this noble cause & great opportunity.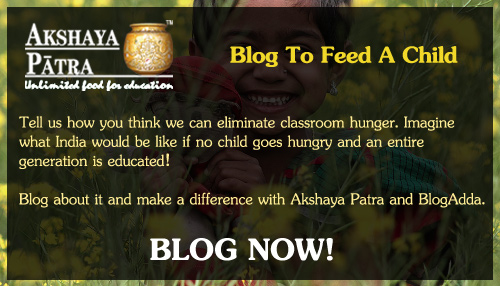 "Blog to Feed a Child"
For every blog post we write, BlogAdda will sponsor meals for an Akshaya Patra beneficiary for an entire year, as a part of their Bloggers Social Responsibility.