Recently, there was much brouhaha about "cleavage" in the social media. A top-actress, Deepika Padukone, was targeted just before the release of her movie, 'Finding Fanny'. Last year, actress Sonam Kapoor was under similar focus with the release of her movie, '
Bhaag Milkha Bhaag
'.
Actresses have always been the cynosure of attention, sometimes unfair & ugly.
Mango people (Aam Aadmi) or ordinary citizens like you and me don't have it much better...
We judge others and get judged too. We get judged even if we don't judge :)
Thanks all for voting for my idea for IndiSpire #33:
To answer this question, I present some lyrics, dialogs & situations from Hindi Movies in this post.
Physical Assets
"Yeh mehlon, yeh takhton, yeh taajon ki duniya (This world is of palaces, wood/metals, crowns)
Yeh insaan ke dushman samaajon ki duniya (This world is of the enemy of humans & societies)
Yeh daulat key bhookhey rawajon ki duniya (This world is of the wealth-greedy & customs)
Yeh duniya agar mil bhi jaaye to kya hai? (What's the point even if we get the world?)
.
.
Yeh duniya jahaan aadmi kuch nahi hai (In this world, the worth of a human is nothing)
Wafa kuch nahi, dosti kuch nahi hai (Faithfulness is nothing, Friendship is nothing)
Yahaan pyaar ki qadr hi kuch nahi hai (Here there is no respect for love)
Yeh duniya agar mil bhi jaye to kya hai? (What's the point even if we get the world?)

Jala do isey, phoonk daalo yeh duniya (Burn this, blow away this world)
Mere saamne se hata lo yeh duniya (Remove this world in front of me)
Tumhari hai tum hi sambhalo yeh duniya (You take care as this world is yours)
Yeh duniya agar mil bhi jaye to kya hai? (What's the point even if we get the world?)"
- Lyrics of the Hindi-Movie song- Yeh Duniya Agar Mil Bhi Jaye To Kya Hai?, Pyaasa (1957)
In the movie Pyaasa, actor Guru Dutt plays an unsuccessful poet whose ex-girlfriend, Mala Sinha, marries a well-to-do publisher for financial security. The publisher publishes the poet's works after the poet is believed to be dead in an accident. The publisher buys everyone and thus, no one believes the poet when he claims that he is alive. Rather, he's put in a mental asylum. However, the poet escapes, reaches the memorial service and denounces this materialistic and corrupt world.
"Jhan jhan ki suno jhankaar! (Listen to the tinkling)
Ye Duniya Hai Kala Bazaar. (This world is black market)
Ye paisa bolta hai. Ye paisa bolta hai. (This money speaks. This money speaks.)"
-
Lyrics of the Hindi-Movie song- Yeh Paisa Bolta Hai, Kala Bazaar (1989)
"Yaaron sun lo zara haan apna ye kehna (Friends, just listen to what I say)
Jeena ho to apun ke jaise hi jeena (If you live, live just as I do)
Gaadi bangla nahin; na sahi, na sahi (Neither car nor bungalow; no matter)
Bank-

balance

nahin; na sahi, na sahi (No bank-balance; no matter)
TV Video nahin; na sahi, na sahi (Neither TV nor VCR; no matter)
Suiting

shirting

nahin; na sahi, na sahi (Neither suits nor shirts; no matter)
Inki humko kyon ho fikar? (Why should we care about these?)
Jee lo jaise mast kalandar! (Live like a joyous & crazy ascetic!)"
-
Lyrics of the Hindi-Movie song- Yaaron Sun Lo Zara, Rangeela (1995)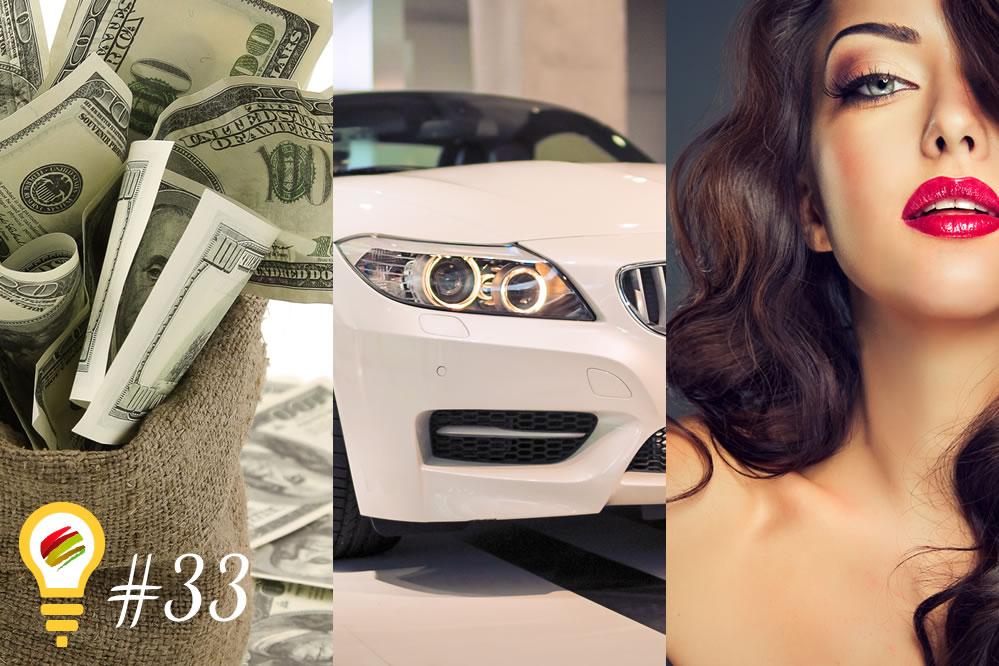 Mental Assets & Inner Beauty
In the movie Rangeela, the heroine played by Urmila chooses the black-movie-ticket-marketeer common man, played by Aamir Khan, over the rich and successful top movie-
hero
, played by Jackie Shroff. She does so as the former is good-at-heart.
"Andaaz mein itna saadapan to kitna sundar hoga munn, (Personality is so simple, then mind will be so beautiful)
Bin gehne aur shringaar bina woh to lagti hai dulhan." (Without jewelry or make-up, she looks like a bride.)
-
Lyrics of the Hindi-Movie song- Chand Sitare Phool aur Khushboo, Kaho Na Pyaar Hai (2000)
In the movie Kaho Na Pyaar Hai, the rich and smart heroine falls for a struggling and simple singer. She does so as she loves him for what he is, and is not bothered about his status or his material riches.
In a scene from the same movie, when her father points out the difference between their status, she leaves her father's car at a traffic-signal and gets seated on the backseat of her beau's cycle to show her father that now there's no difference in their status.
Some points from more Hindi movies-
In the movie Humpty Sharma Ki Dulhaniya, the heroine wants to marry only if she gets to marry wearing a "Kareena-waala Designer-Lehnga"- a Designer-Lehnga like actress Kareena Kapoor.
Later, when she falls in love
& understands the value

, she goes for a local Lehnga, and wishes for a local dulha (groom) instead of a Designer dulha...
In the movie Queen, Kangna Ranaut plays Rani, who is rejected by her foreign-returned fiance just before her wedding just because she's too simple and cannot cope up and as "their status does not match anymore". Later, when she embarks on a solo trip to Paris, clicks a Selfie after trying out a cleavage-revealing dress in a mall and posts the same 'sexy' pic to the same man, his interest in her is rekindled! The guy even comes hunting for her to another city!
But, Queen is loved by so many people of different nationalities just for what she is- her inner beauty and goodness.
Siding up with the rich and adopting foul, unfair or unethical means to get rich can be very harmful.
In the movie Shree 420, Raj Kapoor is a simpleton from Allahabad, whose character gets corrupted in Mumbai. To earn riches, he joins a rich-man out to con the poor people of their wealth in a bogus-housing scheme/scam. He pays a high price to get wealthy.
In the movie Raju Ban Gaya Gentleman, the simple & innocent hero played by Shah Rukh Khan, joins a rich builder and adopts unethical means to get rich. When a flyover collapses due to usage of sub-standard material in construction, he is blamed.

"Aaj mere paas paisa hai, bungla hai, gaadi hai, naukar hai, bank-balance hai. Aur tumhaare paas kya hai? (Today I have money, bungalow, car, servant, bank-balance. And what do you have?)
Mere paas...MAA hai!" ( I have MOTHER)
- Dialogue from the movie Deewar (1975)
The movie illustrates that even after one has so many riches
and status-objects, still one is away from loved ones and loses one's mother, and ultimately the angry young man's quest for material wealth leads to his death that too at the hands of his own brother...
Lesson- Be good and earn the treasure- Maa ka Aashirwaad (Blessings of Mother!)
Values like humility, honesty, discipline etc. are real treasures to be cherished.
I feel-
No need to be rich or have material possessions or act smart to impress anyone.
If you are honest and good-at-heart, people will still fall in love with you and be your fan.
In the movie
Bhaag Milkha Bhaag
, Farhan Akhtar plays Milkha Singh, an Indian athlete with a humble background who's real and honest like coal and shows his true colors and background. Still, he earns international fame and respect with his dedication, good work & achievements. Milkha Singh is a
hero
.
Similarly, the movie
Mary Kom
shows how hard-work and discipline can make a woman a champion, even after she's become a mother and the world has forgotten her and has written her off... As Mary Kom becomes a world champion yet again, the world sits up and takes notice.
True that this is a materialistic, fake and showy world, where immaterial is love! May we all be safe, wise, happy with what we have, & stop being funny as above! I feel- Being a HEROINE/

HERO

with good values & ethics is a treasure-trove!
Linking it to IndiSpire #33 & Two Shoes in Texas- HERO