Dear PM Modiji,
I truly appreciate all the steps you have taken to ensure #SwachhBharat.
However, I am afraid the following need urgent attention:
Dust-bins Usage
The installed dust-bins with 'Wet' & 'Dry' bins are not solving their purpose as people still prefer to dump their garbage on the road and other places excluding the dust-bin...
Toilets
Many public places are yet to have proper toilet facilities for the convenience of all. Can we ensure well-maintained and clean toilets at least in the heritage and other important tourist sites to start with?
Despite toilets in their homes/locality, some citizens prefer not to use them.
Garbage in the minds, hearts & deeds
We can install dust-bins and can construct toilets, but how to remove the garbage in the minds, hearts and deeds of our society?
Evil intentions and actions such as corruption, bribery, cheating, stealing, misbehaviour, littering, spitting, molestations, rapes etc. are enemies of development and show our nation in poor light.
Why do the culprits, who indulge in these acts, walk away scot-free?
They should be penalised and jailed. Bail should be denied to them.
Why are the victims targeted and made scapegoats of the society?
If people are heavily punished after being caught red-handed or when proven guilty for such acts, they will be deterred to act/behave so and crimes will reduce.
Could we please introduce & demand hefty "fine" or penalty from those who spit, urinate, litter on the roads and those who bribe, cheat, steal etc.?
Many nations already have such laws and strict enforcement too to uphold the same.
Public can be encouraged to click pictures of those they catch in the act and name and shame such people.
That should help ensure a truly #SwachhBharat for all of us.
Thank you for your consideration,
Jai Hind!
-
A proud Indian & Dreamer of #SwachhBharat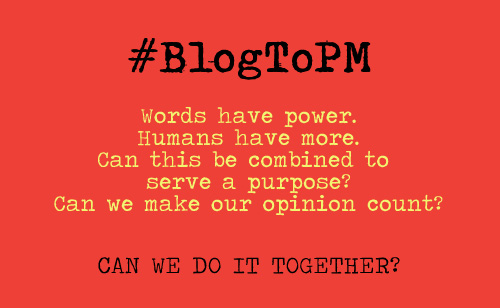 Thanks to BlogAdda for this opportunity.
Do you feel punishment will deter crimes?
What do you feel? Do share in the comments below.