India won her independence on 15th August 1947 thanks to the
painstaking
efforts of our freedom-fighters.
— Anita (@anitaexplorer) August 15, 2016
On this 70th Independence Day, my Vision 2050 for our India is a truly 'Incredible India'.
An India where all citizens-
Talk freely & walk safely with their head held high irrespective of their sex, caste, creed, religion or region.
Have access to basic amenities & facilities & live a life of dignity with homes & toilets for all.
Have the finest education, food, clothing, healthcare, infrastructure & development.
Unitedly maintain Sanitation & Hygiene for a Swacch Bharat, breathe fresh air and feel free in open spaces.
Are gainfully employed adding to India's GDP.
Focus time & energy on excellence & raise India's status.
Uphold our Swadeshi roots, Kaleidoscopic Indian Culture & heritage & help to conserve & preserve.
Are proud to Be Indian, & use indigenous & 'Made In India' items.
Contribute to our nation's progress & strive to make India proud.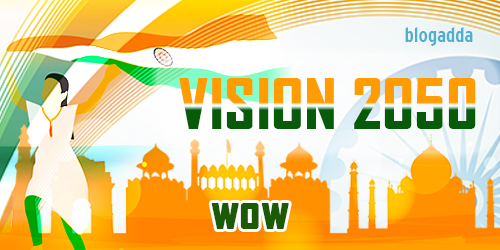 My Vision 2050 has peace & love in India with -
No border dispute with our neighbours.
No bullets fired in the 'Heaven on Earth' & no riots/attacks with knives.
No soldiers guarding our borders.
No bloodshed, encroachment or loss of innocent lives.
No blowing up of crores on defence, rather channelization for education & development.
All this may seem like a fairytale, but Visions can become reality with genuine intention & sincere implementation.
What do we want- A country that's
Queasy
or
Radiant
?
2050 is still more than three decades away.
The future depends on the present.
All the above and more can be possible if we take care of our rights & duties NOW.
We must exercise our power to choose-
Vote For India
& elect our representatives responsibly.
Let us all exercise our choice & voice wisely.
Vote in the 2020 Elections and let's elect a party with a majority.
Let's join hands & take steps together to build the India of our dreams.
What special dream/message would you like to share for our India? Please feel free to share in the comments below.
This post is a part of Write Over the Weekend, an initiative for Indian Bloggers by BlogAdda.
Linking with-
Three Word Wednesday- Painstaking, Queasy, Radiant
ABC Wednesday- I for Incredible India