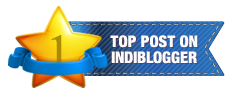 Last month, I wrote a post -
Blog Friendly Share
with info about incorporating Social Media Share Buttons in our Blogs for easy sharing of our posts.
I recommended -
How to Add social sharing media button below every Blog Post.
However, I found that it wasn't customized as per my Blog & my credentials.
Since the Share Widget belongs to ShareThis, its Twitter Handle is configured in the code rather than our own.
I didn't want anyone to get a tweet "via @sharethis" rather I wanted everyone to get "via @selftwitterhandle" in the automated tweet. (I wish that if anyone shares my Post through Twitter, the tweet should automatically have "via @anitaexplorer" - my Twitter Handle)
Ensuring that our own Twitter handles also get shared when our Posts are shared through Twitter, would mean that we would get to learn if & when people are sharing our posts...
In case you wish to continue with the above-mentioned Share Widget and if you want to update your Twitter Handle in the code, do read this Support Page in ShareThis.
As I didn't wish to make all those changes in the code, I decided to adopt the buttons as explained in detail in the Social Media Examiner.
Do take a look and follow all the instructions given in detail with screenshots.
We can optimize the share buttons by customizing them for our purpose.
We can also add other widgets.
Twitter has its own widgets that we can add & ensure "via @ourTwitterHandleName" also gets automatically tweeted with our post.
Then there is the AddThis Free Widget.
We can add all our details and it gets automatically installed when we click 'Install Blogger Widget'.
Pretty simple!
Many of our Blogger friends are using Shareaholic Buttons. This is pretty effective. But, 1 point- In order to post our comments for a Blog that uses these buttons, we need to first register with it & thereafter we can comment for subsequent posts (without having to register)
I would like buttons which anyone can access and directly post comments without having to register even once...
I like the default Blogger Share buttons that most of us employ. Such buttons have widespread usage due to the ease or because of our ignorance!
However, I do wish the default Blogger Share buttons could be customized for our own respective accounts. Blogger buttons do have the relevant ones for Social Share... But, they do not reflect our personalized ids or details.
For example, I don't know who are those blessed souls who have shared my post on Google+ as all I see is +N (where N is a number- the total number of people who have shared) & also I can see my pic next to N (as I have shared on G+!)
I would have liked to see all the N faces :)
Blogger & Google folks, hope you are reading this & incorporate our needs & make Blogger Share Buttons more advanced & effective to help us better...