Hinduism believes in the concept of Karma (action, fate or deed) & also Kismet (destiny or fate).
Needless to say, we need to have a good past & present Karma & a great connection with Kismet!
There is even a Bollywood movie named 'Kismat Konnection' that stresses on Kismet to unite the hero & heroine!
From the past few days I am wondering about my luck. I am a very optimistic person. But, still I can't help but think so as despite my best efforts over the past so many years, I have just managed to win one International Trip Contest so far.
My thoughts raced to the hundreds of contests I had eagerly taken part in, the majority being for South Asia trips, especially for Malaysia...
To earn my trip to Malaysia, I have done some sane & crazy things in my waking hours & by burning the midnight oil! You can find a list of my activities at the end of my post- My 5 Malaysia Experiences.
I now remember having purchased lots of packs of that popular breakfast-cereal and then sending all the codes by SMS hoping at least one code would be the winning one for the grand Malaysian Trip dream!
But, the truth is I never won any of those contests I had taken part starry-eyed!
That Malaysia Trip prize was not in my stars, rather was there in the winner's stars!
The answer came as Karma or Kismet. Those who are destined to win will win...
The recent tragedy about the #MH370 may also be ascribed to the Karma & Kismet theory.
These are the 5 Things I Wanna Do In Malaysia:
Go Places- Lots of destinations in Malaysia! Check out Tourism Malaysia!
Gather Experiences & Memories- Eat, Pray, Love & soak in all the fun, thrill, romance & adventure!
Take part in Events- Many happening events for me to let me hair down & join in!
Celebrate Festivals- Being a Kaleidoscope of cultures, Malaysia has so many festivals...
Fulfill Dreams

- I have dreamt it for so long & it is high time now!
Seeing my enthusiasm, my hubby volunteered to take me to Malaysia!
"There are great travel deals online in this cool new website. I have the coupons & I can shop for a great Malaysia package & what's more get cashback in the bargain!"
Hubby was trying to entice me as he knows I love a good deal & a great bargain!
Come on, everyone loves good deals & also

coupons, cashback & bargain

!!!
As I am made of CONTEST JUNKIE material, I have requested him to hold on to his offer...
Meanwhile, we can indulge in some online shopping & get our bags ready for the future trips!
At least there are some things like Shopping in our Kismet....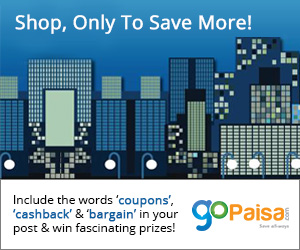 This post is a part of the
Shop, only to Save More!
Activity by
GoPaisa.com
in association with
BlogAdda.com
I am participating in the MalaysiaJao Blogathon Contest in association with BlogAdda.com
This is a part of the
ABC Wednesday- K is for Kismet, Karma, Kaleidoscope
...