But, their shopping styles were vastly different.
Mrs. Mishra, who was judicious about money & concerned about savings, based her buying decisions on factors like the cost-price, Sale, discount, coupons, cashback, bargain etc.
On the other hand, Mr.Mishra was a spendthrift, who never bothered about all these factors.
Mr.Mishra loved visiting the brick-and-mortar stores, especially at the Airports, as he was a frequent-flier.
If he liked something, he had to pick it... PRICE NO BAR!
And Mr. Mishra HATED SALE. His idea was that Sale disposed off unwanted items!
All the above was the cause of great rift & quarrels between the two otherwise peaceful couple.
Just imagine! Shopping can cause tensions too!
Marital tension is an absolute NO-NO!
It was their anniversary and both wanted to buy gifts.
That's when Mrs.Mishra introduced Mr.Mishra to the new website online that had great deals and discount offers, that too 365 days a year!
As she had registered, she had coupons to be used for her purchase!
What's more, they would get cashback to their account based on the total amount they shopped!
Mr.Mishra realized that it was great bargain as he found all his favorite brands right there in the same website.
He could pick whatever he liked that too in consultation with his wife right there in the comfort of their own home!
He felt blessed that he has such a smart & economical wife who took care of his finances.
Swallowing his ego, he confessed it to Mrs.Mishra, who blushed!
They shopped together, taking each other's likes into consideration. So, they bought exactly what they wanted!
There was no sulking about - "Why did you buy this?" , "You know I don't like this colour!" , "It's too costly!" , "I don't wear this brand!"... and they avoided the N number of fights they used to have earlier!
Online shopping proved to be a WIN-WIN situation!
This year they had the best anniversary gifts ever!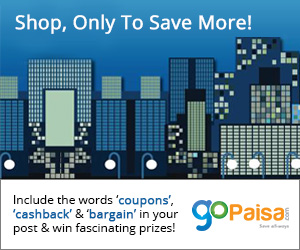 This post is a part of the
Shop, only to Save More!
Activity by
GoPaisa.com
in association with
BlogAdda.com