Shri Devarapalli
Prakash
Rao
has recently won the Padma Shri for Social Work. A social worker from Odisha, he has been working tirelessly in the field of affordable education and health.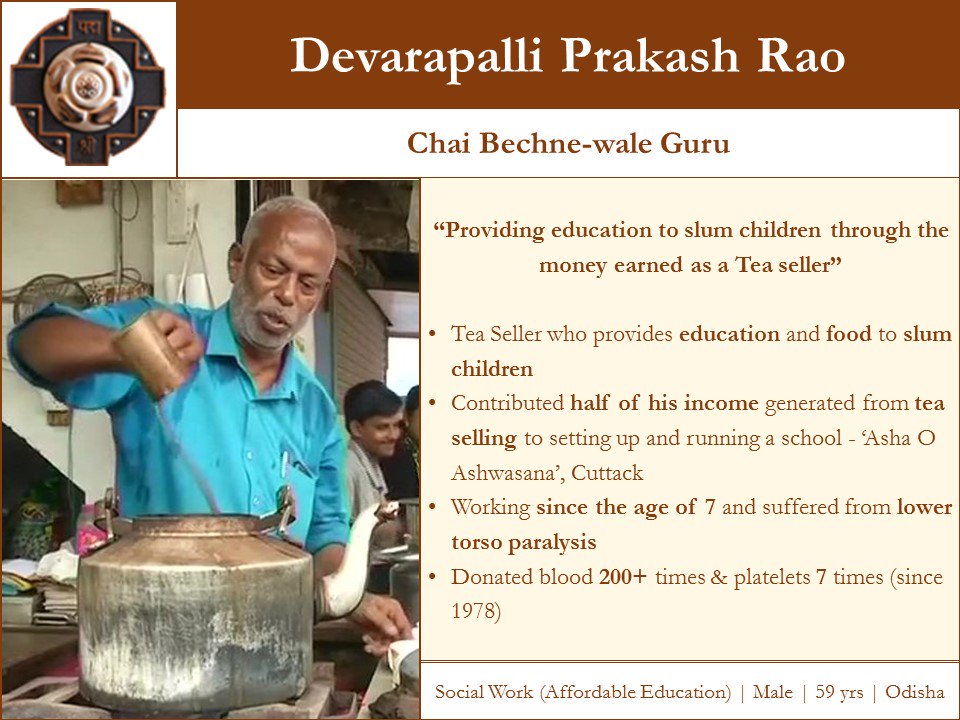 D.Prakash Rao is a simple and humble man. He is a change agent of Odisha. I first met him at an award function and then at many events of an NGO named 'Yes We Can'.
This tea-seller barely manages to make his ends meet.
He always says, "I am a poor chaiwala" (tea-seller).
But, he has a rich heart.
He spends 50% of his savings on those who are even poorer than him.
He provides education and food to slum children.
He has set up a school "Asha O Ashvaasan" for them with his own income. He provides hot meals to them as an incentive for the kids to attend school.
For every cup of tea sold at his stall, he uses half the amount towards self-sponsoring education and health of slum kids. Seeing his selfless act, other people also chip in with their contributions.
He has been involved with blood donation and has been regularly and voluntarily supplying hot milk, water, and tea in the hospital for the last several years.
I was so proud to hear his story mentioned by our Prime Minister (PM), Shri Narendra Modi in

Mann Ki Baat in May 2018. The PM called him a diya (lamp) enlightening these kids' path.
— Dr. Anita Sabat (@anitaexplorer) May 28, 2018
We were delighted to learn that Shri Rao would be awarded the prestigious
Padma Shri
award for his incredible work. It was wonderful to gift him an Odisha Handloom jacket when he dropped in at our office.
We are so proud that he wore our jacket for the Padma Awards function!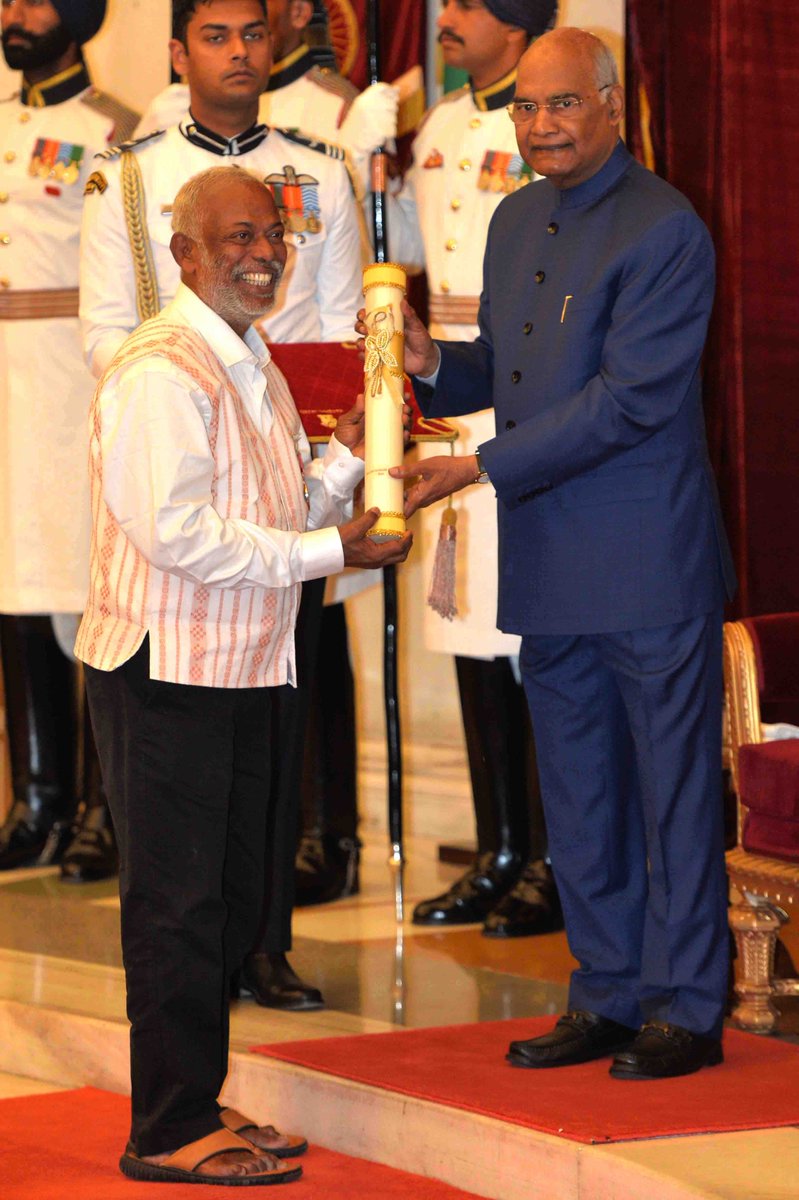 Delhi: President Ram Nath Kovind confers Padma Shri award upon D Prakash Rao - tea seller from Odisha's Cuttack who also runs school for children living in slums. He has been awarded in the field of Social Work - Affordable Education.

#PadmaAwards pic.twitter.com/cDPVE8JtOU

— ANI (@ANI) March 16, 2019
Now he is being invited as a guest and to address several functions and he is mostly dressed in the same jacket!
The following photo is of the 50th year celebration of the establishment of the Government High School, Sahid-Nagar, Bhubaneswar.
Shri Rao 2nd from the right; Me on the extreme right
When he visited our office with his wife, we were happy to gift
Pipli Applique Work
- Chandua & bag to the couple. Pipli Applique Work is a Geographical Indication (GI) of Odisha.
L to R- Me, Mrs & Mr Rao, Amrita Sabat
He has many upcoming trips. He will be visiting Abu Dhabi on the invitation of the Odisha Samaj Abu Dhabi (OSA).
He visited our office Sabat Exports Pvt Ltd two days ago to pick up more jackets. Shri Rao is holding our brand Utkalamrita's red Sambalpuri jacket and another folded Odisha Handloom jacket in his hands. Sambalpuri Saree & Fabric is a Geographical Indication (GI) of Odisha.
L to R - Amrita Sabat, Shri Rao, Sambalpuri Jacket, & Me
We appreciate that he has joined our mission to promote Odisha Handloom worldwide.
Shri D Prakash Rao is an inspiration.
P for- Padma Shri
I am blogging related to Odisha, India for the #AtoZChallenge this year.
Do check out my other #A2Z posts here.