Kamala Pujari is a strong tribal woman from Koraput district. This activist and scientist has done a great service to society by preserving hundreds of local varieties of paddy and promoting organic farming. This year, she was awarded India's fourth highest civilian award "
Padma Shri
".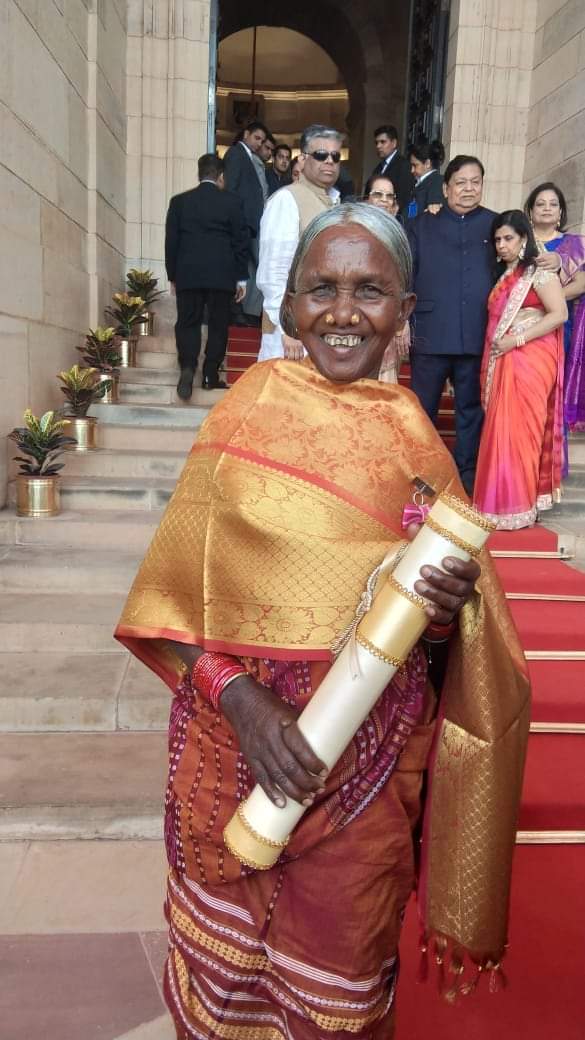 When I met Kamala Maa some months ago, she expressed her helplessness that
Odisha has lost many of the indigenous varieties of rice grains.
But, hadn't she spent many years of her life collecting and preserving the seeds? What happened to those?
She alleged that she does not have possession of those jars that she had painstakingly worked on as the M.S.Swaminathan Foundation has taken everything away. Why and how does she claim ownership of what belongs to them (the tribals)?
I am searching for answers.
These ancient and indigenous varieties of rice have unique characteristics and must be applied for the Geographical Indication (GI) tags.
In fact, the previous name of the state, "Orissa", derives its name from "Rice" that is called "Oryza Sativa".
President Kovind presents Padma Shri to Smt Kamala Pujari for Agriculture. An agriculturist from Odisha, Ms Pujari has collected endangered and rare types of seeds such as paddy, turmeric, tili, black cumin, mahakanta, phula, and ghantia

pic.twitter.com/lUajsybMNX

— President of India (@rashtrapatibhvn) March 16, 2019
There is no doubt that the seeds are endangered and organic farming is essential.
Now that Kamala Maa has earned the Padma Shri, hope her learnings and teachings are taken well cognizance of and properly documented. It is action and implementation time now.
S
for- Seeds, Scientist
I am blogging related to Odisha, India for the #AtoZChallenge this year.
Do check out my other #A2Z posts here.