Ratha Jatra 2020 came to a close on a sweet note with the celebration of the Niladri Bije ritual on the last day of the Ratha Jatra when Rasagolas are offered as prasad/bhoga.
It was great to see news reports about the Adhara Pana and Niladri Bije rituals in many dailies.
This year, Rasagola Dibasa was on 4th July, 2020.
Rasagola Dibasa celebration in 2020 was unique as the event was celebrated at homes and many prepared Rasagolas for the first time to offer to the deities as per our continuing tradition.
The following news report about "Rasagola Dibasa" celebration this year was published on 5th July 2020 in the Sunday Times of India, Bhubaneswar edition.
We have been advocating the use of our terms for long.
At least the local papers based in Odisha should report the celebration correctly.
As we have been celebrating #RasagolaDibasa, the spelling "Rasagola Dibasa" should be used as has been done in the above report in TOI.
But, this article is not available online.
However, h
ere is another report of the
Bhubaneswar TOI edition
available online
that has the spelling- "Rasagola Divas".
"Chief Minister Naveen Patnaik extended his best wishes to all on the occasion of 'Neeladri Bije' and 'Rasagola Divas' on Saturday. The occasion is also observed as Rasagola Divas in Odisha as Lord Jagannath, who undertakes the journey outside the temple only with his elder brother and sister, pacifies the anger of Goddess Mahalaxmi by offering her Rasagolas."
As there is no mention of the term we have been using, whoever will check online will find the above article with the reference and spelling as "Divas" and would not know about "#RasagolaDibasa".
Official Usage
The following tweets are some officially shared ones this Rasagola Dibasa-
ନଅ ଦିନର ଲୀଳା ସାରି ମହାପ୍ରଭୁ ଆଜି ନିଳାଦ୍ରୀବିଜେ କରୁଛନ୍ତି। ରସଗୋଲା ଦେଇ ମା' ଲକ୍ଷ୍ମୀଙ୍କ ମାନଭଞ୍ଜନ କରି ଭାଇଭଉଣୀଙ୍କୁ ସାଙ୍ଗରେ ନେଇ ଶ୍ରୀନଅରରେ ପ୍ରବେଶ କରିବେ। ଜଗନ୍ନାଥ ସଂସ୍କୃତିର ଏହା ହିଁ ସ୍ୱତନ୍ତ୍ରତା। ଏହା ହିଁ ଆମ ଅନନ୍ୟ ପରମ୍ପରାର ନିଦର୍ଶନ। ମହାପ୍ରଭୁ ସମସ୍ତଙ୍କ କଲ୍ୟାଣ କରନ୍ତୁ। ଜୟ ଜଗନ୍ନାଥ 🙏#RasagolaDibasa pic.twitter.com/2AurDFs5gJ

— Naveen Patnaik (@Naveen_Odisha) July 4, 2020
ମାନ୍ୟବର ମୁଖ୍ୟମନ୍ତ୍ରୀ ଶ୍ରୀ @Naveen_Odisha 'ନୀଳାଦ୍ରି ବିଜେ' ଓ 'ରସଗୋଲା ଦିବସ' ଅବସରରେ ରାଜ୍ୟବାସୀଙ୍କୁ ଶୁଭେଚ୍ଛା ଜଣାଇଛନ୍ତି। ମହାପ୍ରଭୁ ଶ୍ରୀ ଜଗନ୍ନାଥ ରସଗୋଲା ଦେଇ ମା'ଲକ୍ଷ୍ମୀଙ୍କର ମାନଭଞ୍ଜନ କରି ଶ୍ରୀମନ୍ଦିରରେ ପ୍ରବେଶ କରିଛନ୍ତି। #JaiJagannath #RasagolaDibasa pic.twitter.com/MODCh56SOq

— H & FW Dept Odisha (@HFWOdisha) July 5, 2020
Even our Honourable Chief Minister, Shri Naveen Patnaik and Honourable Union Minister, Shri Dharmendra Pradhan have tweeted using the hashtag #RasagolaDibasa.
As per traditions, Mahaprabhu Jagannath offers Rasagola to pacify Ma Laxmi, who is angry for being ignored during her visit to Gundicha Temple. This auspicious day of #NiladriBije is also celebrated as #RasagolaDibasa in Odisha. Greetings to all the die-hard fans of Rasagola. pic.twitter.com/i9F5SBmJyX

— Dharmendra Pradhan (@dpradhanbjp) July 4, 2020
Why shouldn't the media follow the same and use our terms?
Now there is a lot of confusion about spellings.
When our Chief Minister and official state government have posted about #RasagolaDibasa, our local English media must use our spellings and stand in solidarity with us.
Once local media publishes this, there will be acceptance nationally too.
Uniform Spellings
If uniformity is maintained, then all can use same spellings as we are referring to the same event.
Note- "Chhena" i.e.
Cheese is one of the ingredients used for the preparation of the drink/juice i.e. Pana prepared to satiate the guardian spirits of the Rathas. During the Adhara Pana ritual, they are offered this special drink.
Hopefully, with time and true unbiased coverage and participation and promotion by all,
more people will come to know about Odisha's continuing tradition and the reality.
Now many know and share about the Niladri Bije
ritual- why Maa Lakshmi is angry & how Shree Jagannatha tries to pacify her, patiently answers her questions during the Lakshmi Narayana Bachanika and
succeeds in Manabhanjana
with sweet Rasagola.
Many electronic news media have shown well-researched episodes this Ratha Jatra viz. informative reports about
the Lakshmi Narayana Bachanika, the divine fight and Manabhanjana on Niladri Bije.
Do watch the Shree Jagannatha special videos by Nandighosha TV. One can check online to find many videos about Rasagola Dibasa created with great effort by many TV Channels and YouTube creators.
This was the whole idea of initiating Rasagola Dibasa online.
Maiden Rasagola Dibasa Celebration
In 2015, very few people were aware of Rasagola's link with Odisha and of our rituals like Niladri Bije when this writer first proposed Rasagola Dibasa i.e.
Rasagola Day
celebration of this "
Sweet Yatra
" on social media. Many Twitter and social media users supported this initiative and joined in. We shared blog posts, images and messages. The united efforts of hundreds of Twitter-users gave fillip to this movement that started on Twitter. (I will be sharing about this in detail in an exclusive post.)
Though information of this sweet celebration was shared with many media organisations for the maiden social media celebration in July 2015, only Sambad group had taken interest from the beginning, with Ms. Tanaya Patnaik personally calling up and offering support.
Sambad group published many reports and based on suggestions about
Rasagola Dibasa
, they even organized an on-ground celebration in a hotel in Master Canteen, Bhubaneswar, where many varieties of Rasagolas were on display and for sale. Radio Choklate played "
Dhoom Mitha
" songs and helped in creating awareness about Rasagola.
On the same day, Pahala Rasagola Entrepreneurs and Manufacturers Society (PREMS) organized an event at Pahala. (They have been organizing Rasagola Dibasa every year starting 2015. However, 2020 is an exception).
Once Rasagola Dibasa trended on July 30, 2015, on Twitter, many news media wrote about "Rasgulla".
State Govt. even set up committees to conduct research and to share information about the history of Rasagola. Many unknown facts about Rasagola came to light. Media shared and made everyone aware. OTV News has been celebrating 'Rasagola Mahotsav' on Makar Sankranti each year starting 2018.
We are glad that such initiatives have contributed to creating awareness.
Odisha has earned the GI Tag for Odisha Rasagola last year in July, 2019.
Creative Rasagola Dibasa Sandart
Padma Shri Sudarsan Pattnaik's sandart for Rasagola Dibasa has been so creative and educative over the years. Many Rasagola Dibasa news-reports have his sand-art. The following one, created for this year's Rasagola Dibasa event, is his latest-
On the occasion of #NiladriBije, Lord #Jagannath offers #Rasagola to Goddess Lakshmi. We celebrate this day as #RasagolaDibasa. My SandArt at #Puri beach, Odisha. #RathYatra #Rasgulla pic.twitter.com/pslfHHB8VR

— Sudarsan Pattnaik (@sudarsansand) July 4, 2020
In some reports, that had obviously been copied from previous years, the journalists had forgotten that this Ratha Jatra 2020 was a unique celebration with no devotees! Clearly "thousands of devotees" had NOT thronged the temple as none were allowed this year.
However, who is responsible for the veracity of the reports?
Then, many reports write- "Rasgulla Divas" or even "Rasagola Divas" and not the Odia term that we have been using- "Rasagola Dibasa" #RasagolaDibasa.
This despite Padma Shri Pattnaik spelling it as Rasagola Dibasa in all his sand art over the years, and 'Rasagola' and "#RasagolaDibasa" trending.
But, why is there no mention that Odisha has earned the GI Tag last year?
How will people be aware if facts are not shared?
Celebration Online and Abroad
Social media celebration by Odias has been helpful with combined efforts at least ensuring that our continuing traditions are known by many.
However, many are still using multiple spellings of Rasagola.
It is wonderful to see Odias worldwide getting united and proudly showcasing Rasagola and celebrating Rasagola Dibasa. This news-report shows Rasagola Dibasa celebration in USA.
Spelling of Niladri Bije
The Odia spelling of "Niladri Bije" is -
It is strange to see it spelled differently in different media, including in the above newspaper report and in some government handles.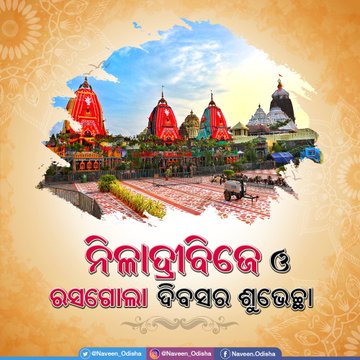 From CM's Tweet shared above
At least the Odia spellings must be taken care.
There is some argument about the said spelling in English with-"Neeladri" being more true to the Odia spelling. Some state it should be "NeeladriBije/Neeladribije" or NiladriBije/Niladribije" with no space between the words- Niladri and Bije.
However, as we have been using "Niladri Bije" and #NiladriBije since inception, thus using "Niladri Bije" would confirm with our existing news reports, videos, blog posts and tweets.
Uniform List of Spellings
We need a list of English spellings of commonly used Odia words and terms. Local words, pronunciation, and usage needs to be adopted.
Looking forward when media and public accept & adopt uniform English spellings & hashtags -
Ratha Jatra, (or should we just use the well-known "Rath Yatra"?)
Bahuda Jatra, (or "Bahuda Yatra"?)
Shreemandira, (or "Srimandir"?)
Shree Jagannatha,
Maa Lakshmi,
Niladri Bije,
Rasagola,
Dibasa,
Rasagola Dibasa,
Utkala,
Utkala Dibasa,
Pakhala,
Pakhala Dibasa,
Chhena,
Chhenapoda,
Nandighosha,
etc.
All the above and many more words are spelled in multiple ways!
Personally, I feel terrible about not knowing which spellings to use as there are no uniform spellings now.
Many are yet to even use correct spellings of our state's name & language- Odisha and Odia
though the name/spelling change has happened 9 years ago in 2011!
Unless we set guidelines and endeavour to create awareness for using uniform spellings and ensuring proper usage now, we will continue to see many words being spelled differently.
What do you feel? How particular are you in ensuring the correct/uniform spelling usage?
Which English spellings are you using for the above words? Please share in the comments below.