Ratha Jatra is a special annual festival of the Shree Jagannath Temple, Puri, Odisha, India.
Lord Jagannath comes out of His abode with His brother, Lord Balabhadra, and sister, Devi Subhadra. In majestic Rathas (chariots) and as per ancient traditions, the siblings set out to their birthplace - SriGundicha Temple about 3 kilometres away.
Many rituals are observed during the Ratha Jatra period as per the customs.
Today, June 23rd, 2020, Ratha Jatra 2020 is being held in a tough time during this Covid-19 pandemic with strict guidelines in place. For the past time in centuries, public participation is not allowed.
Sebayats of the Shree Jagannath Temple and police personnel are allowed to pull the chariots this time.
They have been provided Odisha Bandha masks.
In the following images you can see Shri Biswanath Samantara, Sebayat of Shree Jagannath Temple, and President at Badusuar Nijog of the Puri Temple.
He is wearing an Odisha Bandha mask of the colours- Yellow and Red.
Bandha is the Odia word for "Ikat", a technique of tie and dye for handlooms.
"Orissa Ikat" is a Geographical Indication (GI) of Odisha, India.
Lord Jagannath and His siblings are dressed in Orissa Ikat and many handlooms of Odisha. The sebayats also wear these handlooms.
For this Ratha Jatra, the Shree Jagannath Temple Administration (SJTA) had decided to order handloom masks. They had placed order. from Boyanika that represents the primary weavers' cooperative societies of Odisha state.
5000 masks have been supplied by Boyanika, which is also the Registered Proprietor of Orissa Ikat GI Tag.
Masks are in the colours of the three Rathas- Yellow and Red, Red and Green, and Black and Red.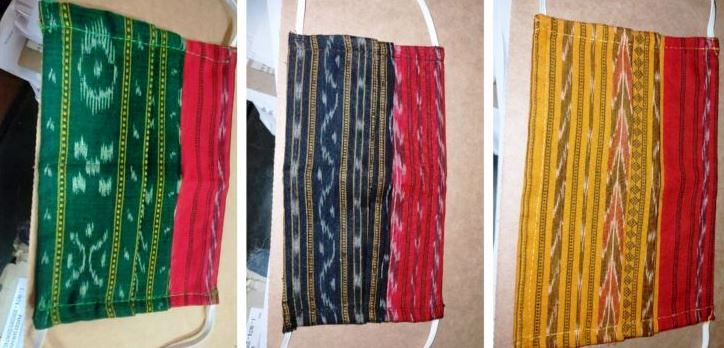 What a great way to celebrate this colourful festival while ensuring safety.
Today is the 5th anniversary celebration of our company, Sabat Exports Pvt. Ltd and brand, Utkalamrita.
Sabat Exports Pvt Ltd is the first Authorised User of Orissa Ikat GI tag.
We have been advocating use of Odisha handloom masks before the lockdown began. More than thousand masks have been supplied to many conscious organisations and individuals.
Let us all buy, use and promote handloom masks and products and support our weavers.
NOTE- The Ratha Jatra has started today and the rituals will continue till July 4th, 2020.
The last custom is - Niladri Bije that is celebrated as Rasagola Dibasa #RasagolaDibasa.
It falls on July 4th this year.
In case you wish to learn more about GI tags of Odisha, you can check out my eBook about #OdishaGI is available for free download for a limited time here-
Do download, read & share this info with your family and friends.
Let us share information and create awareness.
Do share your views.
This writer is thankful to Shri Biswanath Samanatara for sharing these valuable images from Puri Ratha Jatra site.