A rank-holder with a brilliant and analytical mind,
Chose acting & decided for the Bollywood grind.
He left his engineering course, without nitty gritty;
He rejected scholarship from a foreign University.
His good looks, hard-work, passion, screen presence,
His raw energy, talent, boyish charms & smartness...
He trained hard; his extra effort shines in all he did.
He supported students & sponsored the less-privileged.
He inspired his fans, replied to messages & gave hope.
And then he had to face abuse, battle demons & cope...
He had a cool bucket-list; was already fulfilling dreams.
Few saw his delicate frame & heard his inner screams.
His disarming smile hid deep secrets & gave no clue.
Many were unaware of what he was going through.
Some caused/knew about this; couldn't stop him-
Circumstances are responsible for this step extreme.
A very shocking & sad news for his fans lay in store-
That this dynamic complete entertainer is no more...
We mourn his loss; feel a family-member has gone far;
He'll continue to shine in our sky like a bright star.
Sushant Singh Rajput was a multi-talented and hardworking actor, who has sadly exited our world.
Wikipedia describes him as "
an Indian actor, dancer, entrepreneur, and philanthropist."
This Sunday, 14, June, 2020, I was extremely saddened to learn that he had chosen to exit our world.
She asks him his name.
He asks her to find out from the TV- from the live cricket match he was to play the next day

Last week, I re-watched M.S. Dhoni: The Untold Story.
This is one of my favourite scenes from the movie

Sad to watch TV news now #RIPSushant #SushantSinghRajput pic.twitter.com/YE2787XYZD

— anitaexplorer (@anitaexplorer) June 14, 2020
I had never watched any of his popular shows on TV like 'Pavitra Rishta' before watching his superb dance performance in Jhalak Dikhhla Jaa-4 dance-reality show.
Later, when I learned of his debut Hindi movie, Kai Po Che, I really wanted to attend the premiere show and meet the star. There was a contest.
@anitaexplorer open to all

— UTV Motion Pictures (@utvfilms) February 15, 2013
I was a winner in their contest and was thrilled to win a pass from UTV Films!
@utvfilms Thanks! Feel like screaming #kaipoche ! @TheSagar7 @Harshppdon @Delmer_dsouza @mannb4u @TikhiChatni @sahibagursahane Congrats all!

— anitaexplorer (@anitaexplorer) February 16, 2013
I wish I could have attended Sushant Singh Rajput's debut movie's premiere show at Mumbai.
I later watched it in my city. I was sad to see him dying at the end of the movie- Kai Po Che.
Despite not having met him, I'm personally extremely pained, more so after knowing this golden personality and all the nice things he has done and all the comforting and motivational words he has shared, and the thoughts he has implanted in minds.
My 50 DREAMS & counting...! 😉
————————
1. Learn how to Fly a Plane ✈️ 2. Train for IronMan triathlon 🏃🏻‍♂️
3. Play a Cricket Match left-handed 🏏
4. Learn Morse Code _.. 5. Help kids learn about Space. 🌌
6. Play tennis with a Champion 🎾
7. Do a Four Clap 👏 Push-Up ! (1/6) ... pic.twitter.com/8HDqlTNmb6

— Sushant Singh Rajput (@itsSSR) September 14, 2019
It is a revelation to read the nice words penned by his fans, whom this down-to-earth star personally replied. It's touching to see his simplicity and how hard he tried having to be his own cheer-leader, who had to push his films. Sad that he never got credit for his last major work, nor was nominated in the film awards for Chhichhore.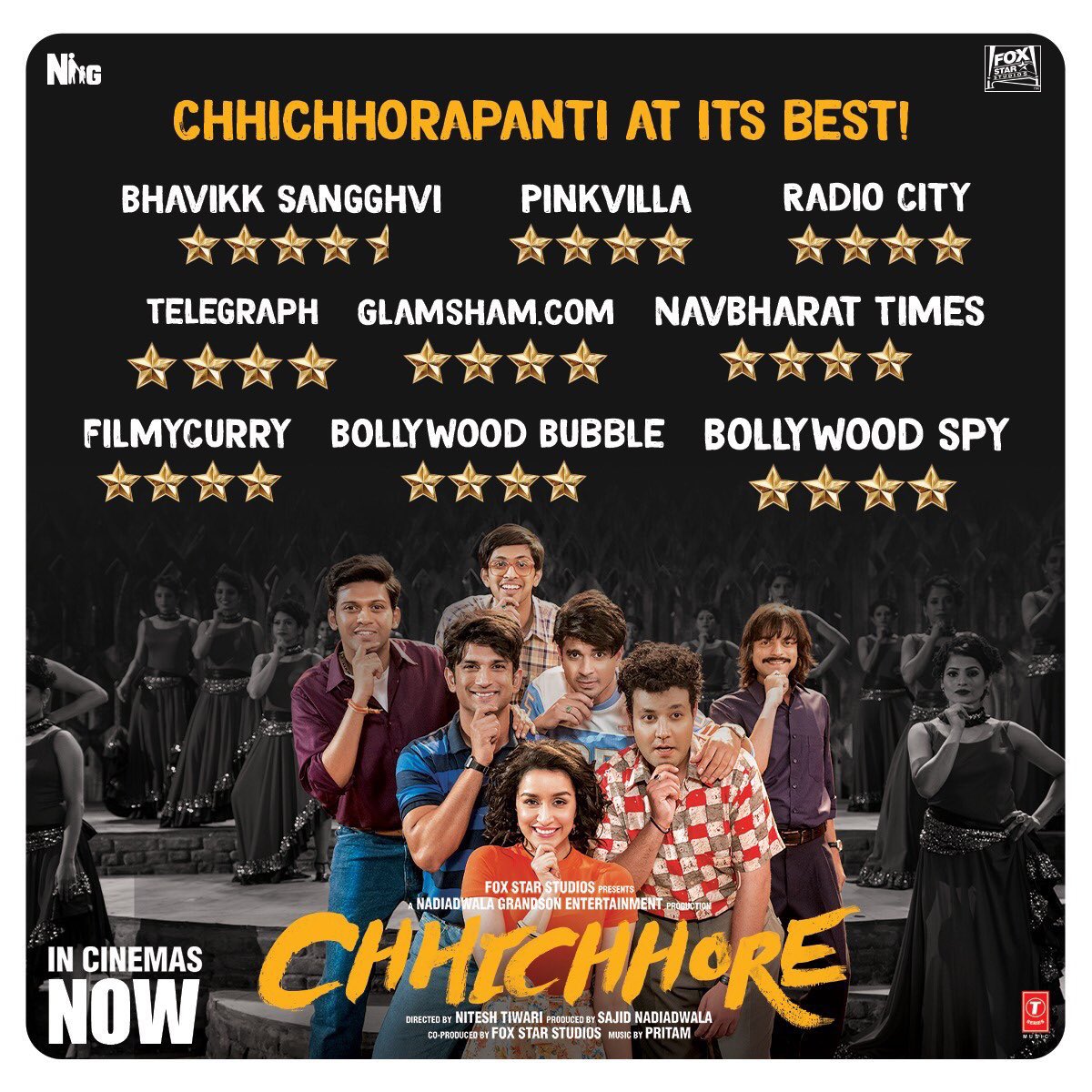 In the past few years, some movies have focused on 'suicide' like 'Chhichhore' & '3 Idiots'; sadly, in real life, we have had to encounter many cases...
Technology has made our lives so connected, yet we feel so distant and aloof. Though there is a lot of self-help, motivational and spiritual content available, yet our society has to grapple with such heart-wrenching cases. As hypocrisy reigns and opportunists garner attention, remember that karma will play the catch-up game.
काफिराना सा है :) 🙏🏻🦋👌🖊 https://t.co/T5QBkUGHjJ

— Sushant Singh Rajput (@itsSSR) January 11, 2019
My message for those who are contemplating such an exit-
"Choose life & hope, don't give up without a fight.
Remember that day ALWAYS follows night."
You can read my entire poem -
Choose Life, Don't Give Up.
I wrote this poem in 2014 to share my thoughts on getting the sad news that the acclaimed Hollywood actor, Robin Williams, had decided to end his life. He was suffering from depression.
A few months earlier in the same year, when it was claimed that Sunanda Pushkar had "committed suicide", I never bought the theory. Till today, no one knows what really happened to the gutsy lady with the never-say-die spirit -
Sunanda Pushkar - Some Qs & As.
Sushant Singh Rajput's exit feels like a personal loss.
This thinking, loving and gentle soul certainly deserved better.
Wish he could get to see how much he is loved and missed.
In the end, only three things matter: how much you loved, how gently you lived, and how gracefully you let go of things not meant for you."- Buddha