Five Petals by Chinmayee Gayatree Sahu is a collection of five short stories that bring together different aspects of life, while also sharing their lessons. In her debut book, the author brings to life the characters and the situations they face.
The word 'petals' evokes fragrance and softness. 'Five Petals' is an apt title for five delicate stories.
The book cover looks fresh with its different colours and assortments. Relationships are delicate and have so many flavours to savour.
The Author

Chinmayee Gayatree Sahu has a rich experience in the corporate world having worked in various multinational companies and presently working as a Government employee. Her love for the magical world of books and passion for reading and writing has drawn her interest towards content creation. She writes quality articles, be it fiction or non-fiction that can engage her readers and give them wings of imagination. She blogs at -
chinmayeecreations.wordpress.com
.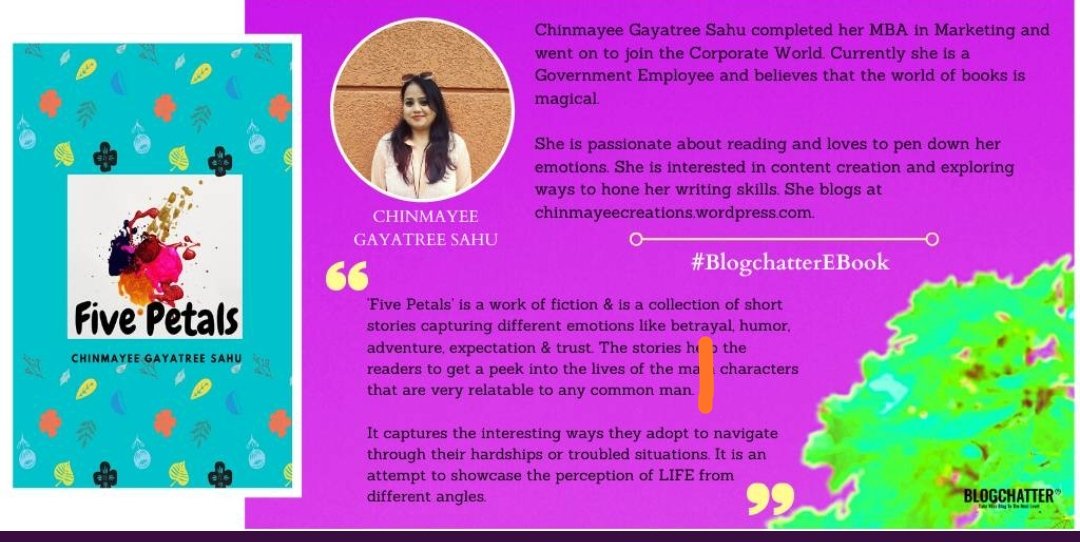 Each of the five stories in her maiden ebook is a revelation imparting lessons.

Life: A Roller Coaster Ride!
This is the story of an enthusiastic and graceful girl and her suitors.
What does Ridhima have to go through after college when she decides to marry?
The weight of office-work and marriage how does she carry?
Who helps the star student to shine again?
Quarantined With Family
This is the story of a couple and how they cope with the Covid-19 lockdown.
What secrets does Mrs.Pattanaik learn about her children and home?
What was her husband, Mr. Pattanaik upto?
Set during the pandemic when March year-ending and many other events have gone for a toss, life has been thrown out of gear!
Depression, disorder, disturbance fill one with fear.

Dream Or Nightmare
This is the story of a bachelor who finds love; or does he really?
What is the cost Vinod pays for freedom and for his job in the new place?
Whom does he meet there?
Does he fall in love?
Is there an engagement and wedding?
Do his eyes finally find his loved one?

Neetu & Aja
This is the story of a girl and her grandfather.
Why is Aja partial to Neetu's brother, Raghav?
What does Neetu have to go through?
What does Aja write to her?

Beyond Borders
This is the story of a couple whose love has withstood time and borders.
What is the specialty of 'Fusion Resort'?
What makes Uncle John and Aunt Meenu a special pair?

To find out the answers of the above questions, do read this book!
In the author's words, this book-
"can be enjoyed over a cup of tea/coffee and promises to take the readers into the five different worlds and provide a memorable experience."
The author's description of the characters makes them relatable.
I liked the understanding and enthusiastic partners, family life, and lessons.
The author pays keen attention to details.
We know exactly how Ridhima is dressed for the first day of college - even what shade of lipstick she is wearing!
The reader can appreciate the variety of flowers and trees in Aja's rich garden!
"Aja" is the Odia word for maternal grandfather. I liked the author's use of the term. I remembered my Aja while reading the story and got very emotional. I took a trip to my Aja and Aaee's house, which is pretty similar to the one described in the story. The well-written letter brought tears to my eyes.

The author has a good grasp of human relations and has done a commendable job in expressing different emotions through her series of short stories. Her knowledge of the corporate world makes her seamlessly incorporate industry information in her stories.
A Note To The Author-
Dear Chinmayee,
Here are some words to you from me!
I agree what seems perfect may not be-
What's meant to be will happen ultimately.
Life is crazy with its turns and twists,
Keep moving on & emerge out of the mists!
Just as discovered by the characters in your stories-
If life gives us locks, we must look for the keys! :)
A Note To The Reader-
Download "Five Petals
" right away. It's available for free download just for a couple of days.
Just like the author has used words from the local language, it is our responsibility to endeavour to use the local words. Once we all start using, then they can become popular.
I have shared this in my eBook - about the "Geographical Indications (GIs) of Odisha" that is available for free
download here
.