The coronavirus i.e. Covid-19 has several lessons for the world.
World Health Organisation (WHO) has declared coronavirus a pandemic. Almost our entire world has been affected by the coronavirus, with patients now spread over 195 countries by now. We are all on the same boat and united in our fight against the coronavirus.
Many have been killed across the world.
About 30 military trucks have crossed Italy's Bergamo, from the cemetery to the highway, with about 70 coffins of people killed by coronavirus that the cemetery can no longer manage: there are too many and will be cremated or buried elsewhere

https://t.co/OBTvmfIyuK

— Alfons López Tena (@alfonslopeztena) March 19, 2020
Haves and Have-Nots
Coronavirus does not differentiate between the rich or poor nations, or the non-religious or religious.
Age, gender, race, income etc. factors do not matter as now all that matters is - whether we are safe and do not 'have' the virus, and if we do 'have', then how to ensure we do not infect the 'have-nots' (i.e. those who are not suffering and do not 'have' the virus.). Nations are busy working to ensure the 'haves' population in this case is checked and 'have-nots' maintain their status.
But, nations have to address the costly economic aspects too. The 'have-nots' (i.e. the poor- those without social security, bank-balance and income) need support in this tough time.
Apart from the toll on lives, the legacy of COVID-19 may well be deaths due to stress, loss of livelhoods, a rise in homelessness & in extreme situations, civil unrest. The only global experience that has lessons for us in the current situation is the last world war. (2/4)

— anand mahindra (@anandmahindra) March 19, 2020
Many countries have declared lockdown and curfew to 'flatten the curve'. However, there are some citizens, who are taking things very lightly. Some nations like China, Italy and Spain have used strict disciplinary measures.
Lockdown has meant last-minute travel chaos and cancelling of transport services. However, many people traveling together is unsafe.
— David Leavitt (@David_Leavitt) March 23, 2020
When PM Modi proposed Janata Curfew, requesting citizens to impose a voluntary curfew on March 22, 2020, many abided. However, some 'Covidiots/Covididiots' came out on the streets at 5PM to celebrate the success of the curfew and express gratitude together, thereby defeating the purpose of self-quarantine, 'Social Distancing' and #StayHomeStaySafe.
Ignorance, Misinformation And 'Covidiots/Covididiots'
Even experts are still learning about the coronavirus, as there is so much that is yet to be known about this deadly virus viz. there is still no clarity whether the COVID-19 can be spread by air.
— Physics & Astronomy Zone🔭 (@ZonePhysics) March 24, 2020
Prevention is better than the cure.
On January 14, 2020, even WHO was not clear whether the coronavirus could be transmitted from human-to-human. This misjudgment has proven costly.
Many are believing and spreading misinformation and fake news.
There is shock, fear and panic. If someone is positive doesn't mean they will die or their family-members will die. Many of the coronavirus patients have recovered. One person, who had cold and fever,
committed suicide suspecting he had the virus
. He did not want his family to contract it from him.
When Modiji suggested that we should express gratitude to the caregivers, many people tried to share the science behind the idea that it was 'Amavasya' and the 'cumulative vibrations' will make the virus 'lose its potency'.
Then, there are many graduates from WhatsApp University, who have expert advice on what to do to defeat the virus. Like expert doctors, they prescribe the natural/available ingredients required for the cure.
The cool gurus know exactly how many milligrams of onion, tulsi, ginger, garlic, lemon, hot water, gaumutra (cow urine), Ayurvedic and Homeopathic medicines etc. will do the trick of making the virus disappear!
While India has great traditional knowledge, tests are needed to determine the efficacy in combating this new and deadly virus. Our half-baked information and prescription may create complicate the condition of an ignorant Covid-19 patient.
Unaware of their ignorance, some others are smug with their immunity system and coping mechanism, and not having to do any hard work of actually locating the medicines so diligently being shared by the erudite members of family or groups. They stand in the sunlight as the virus is killed in heat!
World Health Organization (WHO) had to share the following to bust the myth.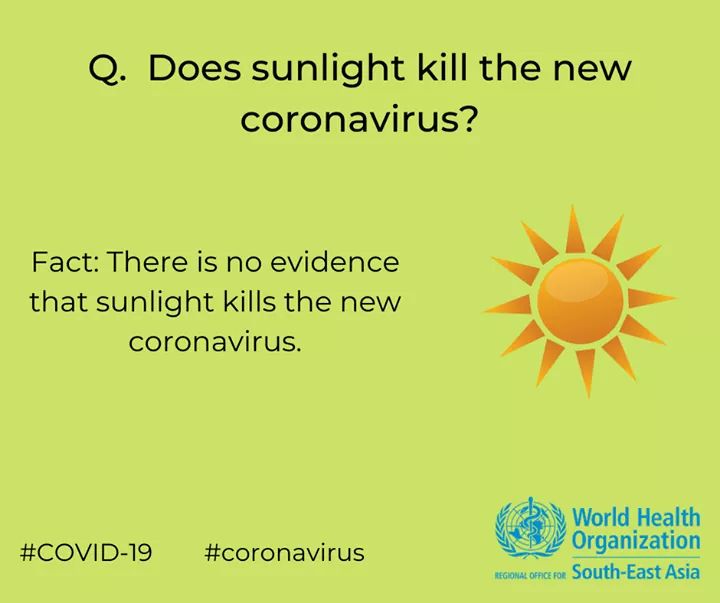 Many Covidiots/Covididiots still have many views!
— Al iskandar (@TheSkandar) March 20, 2020
World Priorities &
Behaviour Patterns
Good health services, hospitals, doctors, infrastructure, support, masks, sanitisers etc. feature on the must-have and must-provide lists of governments worldwide.
Many are trying to avoid high risk and long queues. But, last-minute travel has had its own risks.
Irresponsible educated idiots move scot-free.
Some have run away from quarantine shelters, hosted and attended parties, freely mingled with many, and have put people at risk.
Information Sharing And Caring
Some others have set examples of responsible behaviour, put themselves on self-quarantine, recovered and then have taken the responsibility to counsel and guide others as they felt terrible seeing the misinformation everywhere.
I'm 22 years old and I tested positive for COVID-19.

I've been debating on posting, but I want to share my experience especially with those around my age to help bring awareness, and to relieve any stress/anxiety some may have due to the pandemic.

— Bjonda Haliti (@baeonda) March 18, 2020
Masks, Gloves & Medical Supplies are needed at the hospitals. Medical fraternity needs support.
Quick update—Asked my friend what we can do to help her and the other doctors/nurses. Her response:

1) Stop hoarding masks, gloves and other medical supplies
2) Stay home to flatten the curve
3) Wash your hands
4) Send food. They love food that isn't from the hospital cafeteria

— Evan Siegfried (@evansiegfried) March 19, 2020
We know the current COVID-19 situation can feel stressful, but hoarding supplies isn't helpful. Stores will re-stock, there will be plenty of food & supplies, but only if we stop the stockpiling. Let's only buy what we NEED & leave the rest for our neighbors. Be safe, not selfish

pic.twitter.com/fgWhYRL0cK

— El Paso County PIO (@epcpio) March 18, 2020
Hoarding, Panic Buying, Priorities!
Covid19 has shown the hoarding mentality of the world despite repeated requests not to be selfish and to think about others.
Rajma, chhole, masale are running out at Spencer's. Toilet paper, available. Alag alag deshon ki alag alag priorities.

pic.twitter.com/1olnFdDZc4

— Satbir Singh (@thesatbir) March 18, 2020
Prime minister announced school closures and asked to stay at home, so seems everyone is panicking now. Haven't seen this earlier ever. We picked a big strolley at the entrance and someone exiting said your wouldn't need that big strolley mate'

pic.twitter.com/V2ok1IrrIc

— abhishek (@abhishek_tri) March 19, 2020
I can't believe we've arrived at a place where POLICE have to hand out toilet paper — for safety.

I am ashamed of humanity right now.

pic.twitter.com/UZQ0juX62P

— Avi Yemini 🇦🇺🇮🇱 (@OzraeliAvi) March 19, 2020
— NowThis (@nowthisnews) March 19, 2020
— Liz McShane (@Liz_McShane) March 18, 2020
Some Achievements, Lessons & Advice:
Five substantial achievements of

#JantaCurfew

1. People have finally realised gravity of situation

2. Widespread adoption of

#Social_Distancing

3. Easier acceptance of a longer

#lockdown

4. Entire country is united on the issue

5. Doctors & health workers are truly motivated

— Arun Bothra (@arunbothra) March 22, 2020
#COVIDー19

teaches us

1. We are all equal. Disease treats us the same

2. We are all connected

3. Health is precious. Eat right, exercise, build immunity

4. Life is temporary

5. How important are our families

6. To reflect and learn from our mistakes

7. Need to respect nature

— Harsh Goenka (@hvgoenka) March 22, 2020
We are in a period of shutdown till 29th.
>Please avoid unnecessary travel.
> Walk down to nearby shop to buy grocery, vegetables.
> Don't visit anyone or be visited by anyone.
Please minimise social interaction.

Maintain social distance.

— Dr Sudhanshu Sarangi (@SarangiSudhansu) March 22, 2020
When the prediction for all the horoscopes of all the world-citizens is the same, then we know we all are staring at the same future.
May the entire world learn the lessons and act responsibly.
— Mumbai Police (@MumbaiPolice) March 24, 2020
When Governments worldwide are requesting citizens to stay home and stay safe, it is our duty and responsibility to be good citizens.
— Sudarsan Pattnaik (@sudarsansand) March 23, 2020
COVID-19 has taught us many lessons.
The realization that - '
Vasudhaiva Kutumbakam'
.
It means- 'The world is a family'.
We cannot ignore what is happening in our neighbouring country/state/city/lane/home as it can affect us too. We are all responsible for one another.
All nations are on the same boat.
We must learn from one another and lend support.
Also, '
Health is Wealth
'. We may have the best healthcare and care-givers and a lot of wealth still we may be unable to save lives.
Don't think that we are immune and nothing will happen to us in this inter-connected world.
'
Prevention is better than the cure
.' It makes sense to learn from those (countries/people) who are experienced.
A handful of irresponsible (educated illiterate) people, who don't follow guidelines, jeopardize the lives of a larger majority.
Be a responsible citizen. Do not be selfish and hoard.
Abide and follow lockdown and Social Distancing rules.
Share credible sources of information
; and not fake news or misinformation.
The sooner we realize all this, the better it is for our world. May we all heal together.
Sarve Bhavantu Niramaya
-
May all be healthy.
Stay Home. Stay Safe. Take Care.
My post for IndiSpire Edition-317- What lesson do you think the world should learn from the Corona virus disease (COVID-19)?
#CoronaLesson
What do you think is the biggest lesson the coronavirus has taught us?
Do share your views in the comments below.