A Palanquin Carried Special Cover, "Rasagola in SriJagannathji's cuisine", was released on March 1st, 2018 at Puri Head Post Office by the Department of Posts. The special cover was released on a special day-
Dola Purnima, the day before Holi when traditionally Holi colours and sweets are offered to the Gods.
This Special Cover features the traditional offering of Rasagola as bhog/prasad to Goddess Laxmi on behalf of Lord Jagannath during Niladri Bije at Sri Jagannath Temple, Puri, Odisha.
Rasagola has been a Mahaprasad of Lord Jagannath from centuries and Rasagola is one of the more than hundred dishes that are offered as bhog/prasad.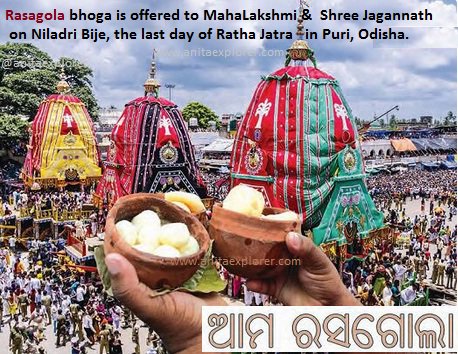 Rasagola, a cheese-based Odisha sweetmeat, finds mention in the Odia 'Ramayana' by Balaram Das (1472-1550 AD). Rasagola is offered by Lord Jagannath to appease Goddess Laxmi on Niladri Bije, the last day of Rath Yatra at Puri. As the Lord visits Gundicha Temple with His siblings during the Car Festival, His wife is aggrieved for being left behind. 'Swatwalipi', the Record of Rights governing all rituals of Shree Jagannath Temple, specifically mentions Rasagola. The Panjika of 'Tadhaukaran' servitor also mentions Rasagola as a special offering by the 'Bhitarachha Mohapatra' servitor.
The programme commenced after the traditional lighting of the lamp, and offering Rasagolas to Sri Jagannath.
The cover was released by Chief Postmaster General, Odisha circle, Dr. Santosh Kumar Kamila and presented to Chhatisa Nijog Nayak Shri Janardana Patjoshi Mohapatra.
The meeting was presided by President, Srikhetra Saangi, Shri Mahendra Mishra. Senior Superintendent of Post Offices, Puri division, Shri Sanjay Kumar Mohapatra; Postmaster Puri HO, Debaraj Sethi; cultural researcher, Dr. Asit Mohanty; Secretary, Srikhetra Saangi, Shri Rama Ballabh Mohapatra, were also present on the dias and were presented the same cover.
— Dr. Anita Sabat (@anitaexplorer) March 1, 2018
The meeting was arranged by senior philatelists, Shri Bijoy Kumar Biswal and Shri Ajaya Kumar Barik. The cover & cachet designing was done by Shri Kashinath Sahoo, from Eastern India Philatelic Association.
Renowned singer Prof. Mitali Chinara; Filmmaker Shri Susanta Mishra; Secretary, Aama Odisha, Swaraj Mishra; Singhadwar Sub PostMaster, Vidhi Saran Narayan Nayak; and others were also present.
Vice President of Srikhetra Saangi, Shri Dharmaprasad Mishra delivered the vote of thanks.
At the end of the event, guests were served Rasagolas.
I was delighted to attend the event and to receive the special cover.
The news of the release of the special cover was carried in many Odia and English newspapers.
Samaja
Orissa Post
The Times of India

Sambad
The Telegraph
Post for my second #atozchallenge. P for Palanquin Carried Special Cover by Department of Posts
My Theme is- "Odisha- The Soul of Incredible India".
Odisha is a state in the eastern part of India. Have you visited Odisha and India?
I am sharing some glimpses from Odisha. Do keep reading and discovering!