Odisha is known as the 'Land of Jagannath'. Lord Jagannath is the presiding deity of Odisha. He is the family god in most Odia households. Lord Jagannath has a unique place in Odisha's history and Odia customs. But, He is not restricted to Odisha or India alone. He is everyone's God. The word 'Jagannath' means- 'Lord of the Universe'.
Lord Jagannath is also called 'Jagabandhu' that means- 'Friend of the Universe.'
Lord Jagannath is the friend, philosopher and guide of the people of the entire Universe.
The culture of Odisha means Jagannath culture i.e. the culture of Jagannath - a unique embodiment of various faiths, religions, cultures and ideologies. The Shree Jagannath Temple, Puri, is mentioned in many ancient Sanskrit texts, such as the 'Padma Purana', 'Matsya Purana', 'Narada Purana' etc. In Odia, 'Purana' refers to 'holy book'.
The cult of Lord Jagannath advocates that people of all castes have the right to worship God and read scriptures.
Lord Jagannath's wife, Goddess Laxmi, is very powerful. Maa Laxmi is the 'Goddess of Wealth'. She upholds justice and equality. She is against casteism and appreciates and rewards devotion.
A story linked to Jagannath and Laxmi has been shared at the end of
this post
.
Lord Jagannath Temple at Puri is widely referred as- 'Shree Mandira' or 'Sri Mandira' i.e. the Temple of Mahalaxmi. 'Shree/Sri' means 'Laxmi' and 'Mandira' means Temple.
Book based on Laxmi Purana by Dash Benhur; Art by Tapan Moharana
'Laxmi Purana' is a holy book in Odia that is followed by Odia families even today. Irrespective of their castes, Odia families worship Goddess Laxmi in all the Thursdays of the lunar month of Margasira'.
Laxmi Purana has many tales about Goddess Laxmi and Lord Jagannath.
Goddess Laxmi is upset as Lord Jagannath goes for His annual outing, the Ratha Jatra, along with His siblings without taking Her with Him.
Text by Dash Benhur; Art by Tapan Moharana
Text by Dash Benhur; Art by Tapan Moharana
Goddess Laxmi does not open the Shree Mandira main door for Lord Jagannath after He returns from Ratha Jatra.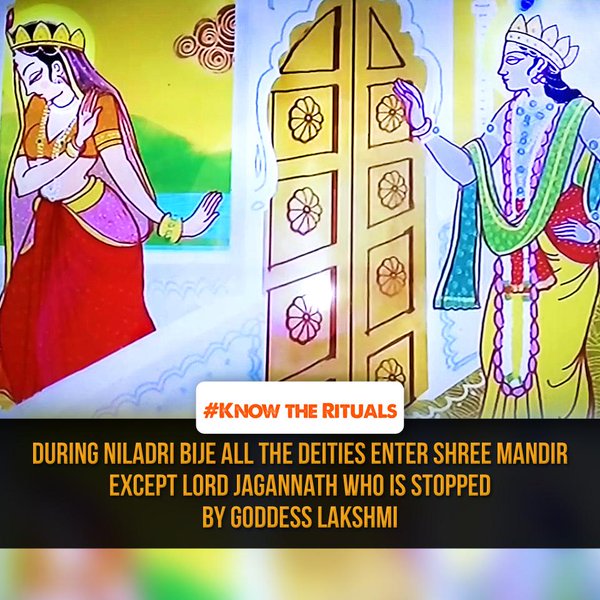 Niladri Bije Ritual of Ratha Jatra at Puri, Odisha - Art
To appease Goddess Laxmi, Lord Jagannath offers her a sweet-dish named
Rasagola
. Rasagola works its magic! Lord Jagannath is then allowed to enter.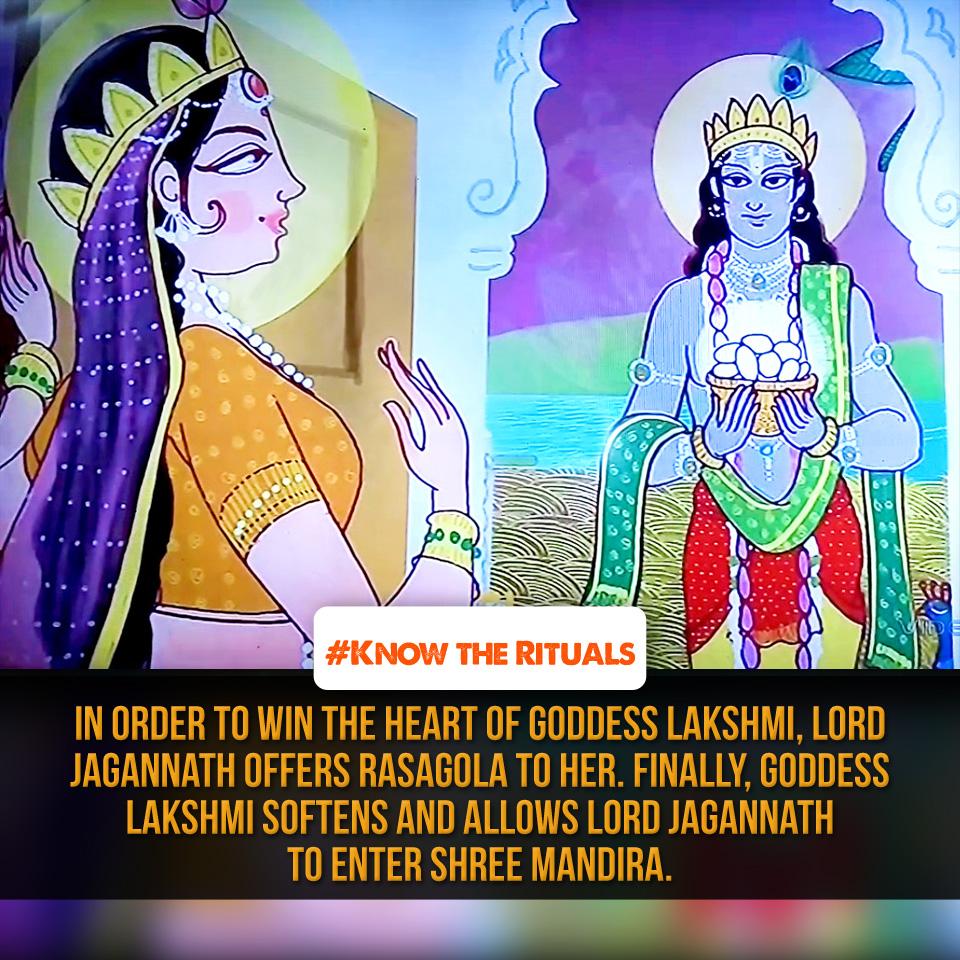 Niladri Bije Ritual of Ratha Jatra at Puri, Odisha - Art
Laxmi and Jagannath occupy a special place in every devotee's heart and mind.
Post for my second #atozchallenge. J for Jagannath, Jagabandhu.
My Theme is- "Odisha- The Soul of Incredible India".
Odisha is a state in the eastern part of India. Have you visited Odisha and India?
I am sharing some glimpses from Odisha. Do keep reading and discovering!