Walk a mile in my shoes & you'll learn-
Why I walk the way I do, why I trudge/hurry?
Why this attitude & the madness makes me burn?
Why my life is a surprising different-flavoured curry?
Walk a mile in my shoes & you'll see-
A human like you with some flaws & goodness.
I'm the way I'm & maybe you'll consider to accept me...
Perhaps decide to end the journeys past & begin afresh?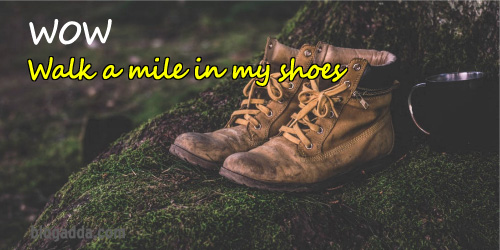 To walk a mile in my shoes, first you must agree-
To wear my shoes with no complaints & with a smile!
My shoe's brand, colour, price, odour mustn't matter really!
Then in my shoes you can walk not just one, but many a mile!
When we agree to walk at least a mile in another's shoes,
We'll work with empathy & peace in our part of the universe.
As responsible world citizens, can we consciously choose?
Don't we wish to gather peace more than currency in our purse?
Are you open to walk a mile in someone's shoes? Do you consider other points of views? What are your views? Please share in the comments below.
If you liked this poem, y
ou may also like- Judge me Not.
This post is a part of
Write Over the Weekend, an initiative for
Indian Bloggers
by BlogAdda
.
Also linking with- dversepoets & Poets United