Society does play an important role in our real life. The reel-life too is shaped by society.
Movies reflect the society.
This post illustrates this point with the example of drinking alcohol or getting drunk.
Society judges us for whatever we do. Newton's third law of Physics holds true.
'Every action has an equal and opposite reaction.'
The same action i.e. drinking alcohol has an equal and opposite reaction from the society (irrespective of whether the drinking is in real-life or in reel-life!)
There's a Bollywood song- '
Peene waalon ko peene ka bahaana chahiye
'
(Movie
-
'Haath Ki Safai'
)
Meaning- Those who drink need an excuse to drink!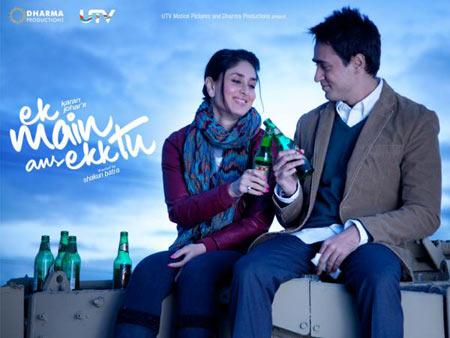 No matter what the reason, some people are always ready to drink no matter what the society says! Some examples-
I)
When the hero knowingly tries to make the heroine guilty or vice-versa.
You are responsible for my alcoholic state!
See me drink and suffer!
In a number of movies, the hero/heroine are shown to consume alcohol and stop doing so only after the intervention of their love-interest!
II)
When the villain/hero tries to spike the drink to intoxicate the heroine or vice-versa.
The intention is anyone's guess.
'Hothon pe bas tera naam hai, Tujhe chahana mera kaam hai. Tere Pyar mein paagal hoon main subaha shyaam.' (Movie - 'Yeh Dillagi')
Meaning- There's only your name on my lips, Loving you is my work. I am crazy in your love morning and evening.
III)
When the hero drinks to forget his love and tries to adjust with the situation taking the help of alcohol.
Devdas has done it for Paro in the famous movies made based on the same novel.
'Kaun kambakht bardaasht karne ko peeta hai ... hum toh peete hai ki yahan par baith sake, tumhe dekh sake, tumhe bardaasht kar sakey'
(Movie - 'Devdas')
Meaning- Who the hell drinks to tolerate... I drink so that I can sit here, so that I can see you, so that I can tolerate you.
IV)
When the vamp/heroine drinks to give company or forget the hero/villain.
Heroines, who are "good girls", didn't normally drink in earlier movies.
In the movie 'Sahib, Biwi Aur Ghulam', Chhoti Bahu, played by Meena Kumari, trying to earn her husband's love and attention, takes to drinking just to give him company.
These days, times are changing. Heroines are shown to enjoy their drinks with their girl gang.
But, the society's view still remains the same.
If a girl drinks, she is considered of 'loose morals' as was discussed in the Bollywood movie 'Pink'.
V)
When the heroine runs away on their wedding day, the hero has one too many!
Despite the drinks, he is sane enough and feels wise to sing in tune and philosophize!
'Ye jo mohabbat hai, ye unka hai kaam, arey mehboob ka jo, bus lete huye naam, mar jaaye, mit jaaye, ho jaaye badnaam...' (Movie - 'Kati Patang')
Meaning- This love is their work, who by taking their lover's name can simply die, perish, and earn disrepute.
VI)
No matter what the situation or reason for drinking one too many, society is ready to judge!
If one drinks, one is a drunkard!
'Log kehte hain main sharaabi hoon' (Movie - 'Sharaabi')
Meaning- People say I am a drunkard.
No amount of justifications or reasons work! Even if it's just one peg!
'Thodi si jo pee lee hai. Chori to nahi kee hai!' (Movie - 'Namak Halaal')
Meaning- I drank a little. I have not stolen.
'Jungle mein mor nacha kisine na dekha, hum jo thodisi peeke zara jhoome, hayere subne dekha.' (Movie - 'Madhumati')
Meaning- The peacock danced in the forest, no one saw it; When I danced after drinking a little, everyone saw.
But, society will judge no matter what!
'Kuch to log kahenge, logon ka kaam hai kehna' (Movie - 'Amar Prem')
Meaning- People will say something, the work of people is to say!
Keep up the holy self-belief!
We are so pure that we can't adopt any bad habits unless they have been forced on us!
Next time, society asks, "are you drunk?", answer this-
"Maine nahi pee hai, mainu pila dee gayi hai!" (Movie- 'It's Entertainment')
Meaning- I have not consumed alcohol, they have made me drink!
Do you feel society shapes our life? Do you recollect any drinking scene from a Bollywood movie? Do share in the comments below.
The #Barathon Day 1 prompt - 'One Too Many' made me think of alcoholic drinks and Bollywood movies!