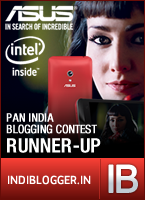 A funny thing happened on my way to the market.
I saw some pretty flowers on the road and took out my new Smartphone to capture their photograph.
My phone's screen actually gave me all the information about the flowers, including their name, where they are found and their date of birth!
Then, several other incredible incidents happened after this…
I saw the elderly fruit-seller and I knew that it was his birthday that day.
I greeted cheerily- "Janamdin ki badhaai, Kaka."
(Best wishes for your birthday, Uncle.)
There was a pause as he started thinking.
He replied, "Main bhool gaya tha... Aapko kaise pata chala, bitiya?"
(I had forgotten… How did you know, daughter?)
This was courtesy the newest Smartphone that I had received as a gift a few hours ago.
My Smartphone's intelliZENce automatically detects and recognizes images, data and text giving me more info about them when I simply point it to an object/person.
I decided to pick a cover for my Smartphone.
"Should I go to X market or Y market?" I enquired.
Surprisingly, I got the answer lightning fast, in a flash!
I was amazed to find a comparison between the two markets and which one is better and the reason why.
I could see the best deals, brands, quality, discount, manufacturing-date, lowest cost etc. despite the fact that my new Smartphone had NO Internet connection!
My Smartphone had smartly chosen the best cover for itself!
Wow! Decision-making & Shopping is so easy!
Everyone had always called me "Walkie-Talkie Encyclopedia" in School.
I felt delighted that now, after so many years, finally I can truly do justice to my title as my Smartphone gives me information or guidance & I get instant answers!
I clearly knew the details about objects & persons!
I felt blessed with my new-found Superpowers & IntelliZENce that seemed to say-
"Let there be light! May you have ALL THE KNOWLEDGE IN THE WORLD!"
There was a road-accident.
The respective vehicle-owners were debating whose fault it was.
As usual, a huge crowd had gathered to 'watch the fun'.
The line from the Rig Veda came to my mind- "May noble thoughts come to us from all sides."
As if taking a cue, my Smartphone's powers enveloped a positive atmosphere all around.
Within seconds, the warring parties shook hands and everyone went to do productive works!
I imagined a world where everyone is friends… so many handshakes…
There are no boundaries as 'Vasudhaiva Kutumbakam' (The whole world is a family)
I selected the whole world in my Smartphone.
I shared positive energy by spreading powerful feel-good messages & love & peace vibrations to brains worldwide so that so that everyone feels happy and optimistic.
I infected the world with hope, honesty & smiles!
"Sarve Bhavantu Sukhinaha,
(May all be Happy)
Sarve Santu Niramaya,
(May all be Free from Disease)
Sarve Bhadrani Pashyantu,
(May all have Well-Being)
Ma Kaschit Dukhkha Bhaga Bhavet"
(May there never be Sadness)
I raised the World's Collective Happiness-Index!
You might ask- "Okay, so what's so 'funny'?"
It is funny, as for a Smartphone App contest some years ago, I had written all these ideas!
Funnily, that time, everyone felt my ideas were silly & funny!
And now this revolutionary IntelliZENce is reality!
I learnt - "What is funny at one time, is serious at another"!
Now I have our WORLD AT MY FINGERTIPS & IN MY MIND!
I can do what others can't do & see what others can't see!
Like He-Man, I can say- "I HAVE THE POWER!"
Zen
My SuperPower Wish won the RunnersUp prize in this IndiBlogger Contest.
This post is a part of Write Over the Weekend, an initiative for Indian Bloggers by BlogAdda.
Also linking it to ABC Wednesday - I for IntelliZENce, Intelligence, Incredible, Information, Incidents...