For this year's Niladri Bije, the last day of the Ratha Jatra, I planned to wear something special.
Niladri Bije is celebrated as Rasagola Day i.e.
#RasagolaDibasa.
As per the centuries-old tradition of Puri Temple, Lord Jagannath offers Rasagolas to appease His wife, Devi Laxmi. Also, devotees offer Rasagolas to Lord Jagannath on this day.
I had handed over a
gamuchha
(a multi-purpose cloth used in Odisha) to our Pattachitra artist.
Pattachitra is an ancient art of Odisha that is found on the walls of the Shree Jagannath Temple, Puri, and also on the chariots (Rathas) of the Ratha Jatra.
I had discussed that I want the story of Niladri Bije depicted by Pattachitra on my
kurta
.
I sent my idea as a doodle to our artist.
It was just a quick sketch to put him on the same track as my thoughts.
On the front side of the
kurta
, I drew three chariots to depict Ratha Jatra.
Devotees - two main characters- were offering Rasagolas on Niladri Bije.
I had already specified over phone that the characters need to be traditionally dressed in Odisha attire.
On the back side of the
kurta
, I wanted the Puri Shree Jagannath Temple and 1 pot (
handi
) full of Rasagolas to be shown.
(
Please don't judge my artistic skills as I can draw better than this and during my school-days, I have actually won many prizes in painting competitions :)
)
I requested our Pattachitra artist to send photo of his drawing that he promptly did.
As there was a space between the central figures, I felt it would be great to fill up the said distance with Rasagola pots.
On Niladri Bije, Rasagolas are offered in pots of all shapes and sizes.
Our Pattachitra artist quickly sent me the sweet additions.
There were extra details soon.
When the colours were filled, it was a treat!
The Temple Pattachitra on the back was great.
Though I wanted a bigger pot of Rasagolas, the artist did not agree for symmetry purposes.
"Rasagola pot cannot be bigger than the Shree Jagannath Temple", he opined.
I requested him to paint extra pots of Rasagolas on the borders!
The front of my
kurta
tells the story of how devotees celebrate Niladri Bije.
This is the traditional celebration of #RasagolaDibasa.
You can learn more about the Niladri Bije celebration related to Shree Jagannath and Devi Laxmi
here
.
Learning & Experience:
It is amazing when ideas come to life.
There is always scope for improvement.
An ordinary doodle can be transformed to extraordinary art.
Talent lies in the hands of the artist- the pencil & paint-brush holder!
Art is much loved and appreciated.
I earned and am still earning a lot of compliments for my Niladri Bije Rasagola Pattachitra kurta.
In my future posts, I will be sharing about some of the Rasagola events to which I wore the same kurta.
Do you like to doodle? How do you like the Rasagola Pattachitra? Please share in the comments below.
'This post is a part of Write Over the Weekend, an initiative for Indian Bloggers by BlogAdda.'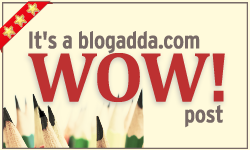 Selected as a WOW post here