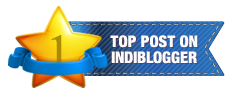 Saraswati Puja
is an important festival celebrated in India, especially in Eastern India in the states of Odisha, West Bengal...
It is also called Vasant Panchami or Shree Panchami.
It is held on the fifth day of the Indian month of Magha.
This year too it was held with traditional fervor on February 4th 2014.
On Saraswati Puja, we pay homage to Maa Saraswati, the Goddess of learning, music, art, crafts and culture.
As we wish to attain knowledge, we invoke Maa Saraswati!
I have fond memories of Saraswati Puja as over the years, Mom ensured we celebrated it without fail in our home!
In our Apartment Complex, we celebrate the Saraswati Puja each year. All the kids, including mine, get some of their books (subjects they fear the most!) to get Maa Saraswati's blessings!
Earlier, in January, we had a meeting in our Housing Society, in which the duties and plans of members were decided. Yours truly was unanimously elected as the Treasurer of the Puja Fund! Money was collected, number of heads estimated, shopping for the Puja requirements done, Caterer intimated for Lunch & Dinner provisions, Purohit (Priest) was informed…
On Saraswati Puja, we had just made the arrangements when the Purohit arrived before time!
The Puja started at 8 AM and ended with the Pushpanjali (Flower-offerings) at about 8:45 AM. There was Arati & Blessings too.
All the members, who were present, participated.
That's the beauty of Incredible India where we unitedly celebrate Festivals.
There was Prasad distribution.
Then, at 1 PM, we had yummy Lunch - Khichdi, Mixed Vegetables, Baiguni, Chutney, Papad, Sweet.
The Purohit arrived again in the evening at 5:20 PM for the
Sandhya Arati
.
We had a fun Antakshari (no prizes for that!) that continued till Dinner-time!
Dinner's menu was one of my favorites- Kachori, Aloo Dum, Chutney & Sweet - Boondi.
I forgot to take pics of the Lunch & Dinner as I was too busy eating & keeping track of the head count for the Meal-billing.
The next day morning i.e. on 5th February 2013, the Purohit arrived before 8 AM to perform the Puja. There was Prasad Distribution.
At 5 PM, it was time to bid the Goddess adieu.
After the rituals, the idol of Maa Saraswati found its way out of our Housing Society's gate. I had a lump in my throat as usual.
See you, Maa Saraswati, again next year!


Note- All the images belong to me. Please do not copy or use without my permission.