I was wondering if my life is out of gear.
I heard a knock that was loud and clear.
"Who is at the door? Who is here?"
I heard a rough voice, "I AM FEAR!"
The answer's gravity made me feel giddy.
My eyes opened WIDE, but I wasn't READY.
I couldn't believe my ears; it was heady.
When fear visits, how can one feel steady?
"Wait! I'm coming!" I heard myself say!
"I WILL open the door! I'm on my way!"
"Hey, would you like me to TIE you today?
"Oh Fear, Why come near? Stay far away!"
I congratulated myself for my confidence!
I realized that I must have made sense!
I feared fear no more; tolerated no nonsense!
Soon, there was no fear; fear was past tense!
Trespassers like fear just can't win anymore!
I decide whom I should welcome at my door.
Either I don't entertain or face and settle score!
Life is beautiful and has so much in store!
How do you react when fear comes knocking at your door? Do share in the comments below.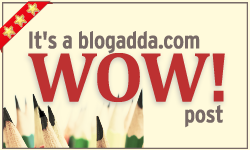 Chosen as a WOW post here
This post is a part of
Write Over the Weekend, an initiative for
Indian Bloggers
by BlogAdda
.'
Also linking with dverse