She honked though she knew that the chances of her car's movement depended on the movement of the vehicles that seemed to be stationary before her car...
Twenty minutes had passed and her car hadn't moved an inch.
She couldn't afford to be a victim of the terrible traffic jam that day.
She soon realized the reason of the jam- Elina, the hottest model in town, who featured on the newest advertisement on the huge billboard on that road.
The public was totally enamoured by Elina's advertisement and didn't want to budge!
"Why did they have to put this up at this signal?" she thought.
She was getting late for the annual function at her school.
She came out of her car.
No one gave her a second look.
The public continued to stare at the billboard.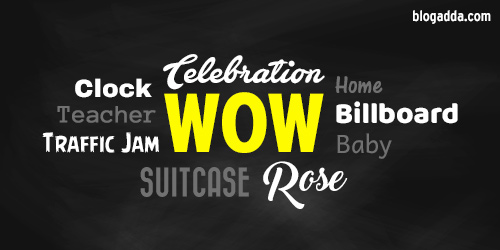 She could see that the traffic behind her car stretched for as far as her eyes could see..
After speaking to some fellow-passengers in front, she realized that the billboard ad wasn't the only reason for the jam.
An unidentified suitcase had been lying on the road and that area had been sealed.
A police-van had arrived and officers were in position to investigate.
They had opened the suitcase and had found a clock inside.
There was a bomb-scare, but sadly none of the cars could move in any direction because of the jam.
When the police was trying to dissect the clock, an old man was trying hard to reason with them.
It seems he had dropped his suitcase on his way and it was his own alarm-clock and certainly not a bomb!
With the confusion having been settled, the traffic finally started to move!
She felt relieved to start her car.
She had updated her teacher that she would be late.
When she reached her school, she was greeted with a huge bouquet 💐 that had all her favourite flowers including the biggest rose 🌹 she had ever seen!
She loved to be a part of the celebration!
Her teachers hugged her. "Elina! We are so proud! Our baby is now India's top model!"
It was Elina's first time as a Chief-Guest, that too at her own school where she had studied right from kindergarten!.
Do you like traffic jam? What do you do when you are stuck in a jam? Do you report to the police when you find any suspicious items on the road? Do share your comments below. Linking with-

Write Over the Weekend (WOW) prompt- construct a story with these words

Traffic Jam – Billboard – Suitcase – Rose – Clock – Baby – Celebration – Teacher

. '

This post is a part of

Write Over the Weekend, an initiative for Indian Bloggers

by BlogAdda

.'