Be wise- Never judge anyone based on their looks!
From covers, one can't judge the contents of books!
It's like looking for something in front that's actually hidden in the nooks!
69% of men agree that their judgement of women is based on their looks.
'Appearances are deceptive'- what appears isn't always true!
Yet people get influenced by what they 'see' & haven't any clue!
There's more beneath the surface than what can be seen.
Remember that nine-tenths of an ice-berg

is

unseen.
Being a woman is so tough, having to juggle tasks & filled with tension!
Women have to worry about

-

looking presentable

& also people's

perce

ption.
Passing value judgments seems to be a favourite game.
Taking the role of a judge in such cases is such a shame!
O
utfit

s

carr

y

subtle message

s that are evident to the minds & eyes of the judges.
W
omen

have to

forc

ibly

adhere

& act; a

ppearance

of women

creates

'

image

s'.
A woman, who wears Sarees, may have 'modernity' in her heart.
Yet she is judged as traditional & backward; not sophisticated or smart!
Poor and wrong judgments cause true harm, mental agony and distress that's real.
64% of women agree that such judgments affect their ability to reach their potential.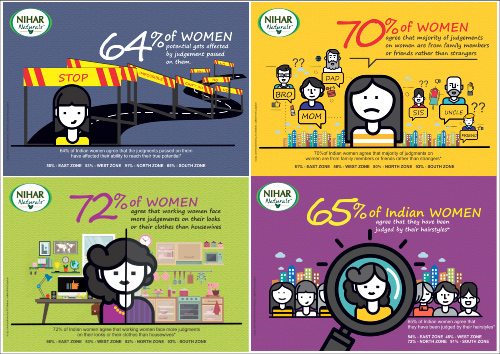 Nielson India #IAmCapable Survey ; Source: BlogAdda
Still people happily indulge in creating and spreading their own stories!
They are surprised and shocked when suddenly presented with realities
!
Just because the girl-next-door has long hair and wears salwar-suits,
Doesn't mean that she can't drive the car or wear suits and boots!
Oh Yes! She can sport many more things that a poor mind can't even imagine!
That simple girl believes #IAmCapable & has the spirit and charisma to win!
No, don't demean yourself by passing her off as incapable or improper!
Soon you may be proven wrong when you read her achievements in the newspaper!
Many times loved ones & whom we know & trust hurt us more than strangers.
70% of women agree that majority of judgments are from friends or family members.
It's a pain when women are judged on their looks or clothes all the time in their lives.
72% of women agree that working women face more judgments than housewives.
A woman is much more than a mere ornament or an item-piece for presentation.
Stop the judgment, give the respect she deserves, let her make her impression.
My wish for women – May we rise above unfairness, unkindness & injustice!
Like kites, let's fly high against the wind, explore our potential, earn bliss & peace!
"Unhappiness is caused by believing that something

is missing that we need to be happy."

Gina Lake
I say- Let's believe #IAmCapable, break stereotypes in style and be happy all the while!
What do you say? Do you stereotype women based on their appearance? Do share your views in the comments below.