I was thrilled when I received an invite to Goa for the exclusive preview launch and to be one of the first few to experience the newest car from Tata Motors- ZICA.
IndiBlogger and Tata Motors had selected me for the #madeofgreat experience!
Delivering newer models that delight customers speaks of Tata Motors' quality commitment and continuous performance and improvement. Its innovation has won
Tata Motors a prized rank
in the 2015 BCG list of the world's 50 most innovative companies. It is a matter of pride that Tata Motors
is the only Indian company in the list.
As I had loved my Bolt experience at the malls, I was looking forward to experience the Zica.
Earlier, I was aware of Zica- but of a different kind!
I looked up the new Zica car online and found many tempting images!
Source: Zica Tata Motors
(Just come out from the picture in front of me, my Zica)
I couldn't wait to lay my hands on this ZIppy CAr- ZICA!
On 4th December 2015 I took the flight from Bhubaneswar to Mumbai.
Day 1- 5th December 2015
My journey to Goa began at the Mumbai airport where many Bloggers had arrived from different parts of India. Many of us met at the airport and in the flight. After arriving at Goa's Dabolim airport, we found #madeofgreat #gearupforgreat welcoming us!
We met Naveen of Team IndiBlogger along with some crew of Wizcraft and Tata Motors.
A Tata Indica car transported Ankita, Ankita and me to Alila Diwa Resort. We were glad to interact with Vineet and Anoop of Team IndiBlogger. We were handed #madeofgreat Blogger cards, welcome letter and itinerary. A delicious lunch awaited us. Rooms were allotted to us on a twin-sharing basis. I got to share mine with Ananya. We checked in our well-furnished and tastefully done room. The outside view was great too.
After changing into beach clothes, we proceeded to Gonsua Beach - Majorda. There was Beach football and bonding with some fun actions and pics!
As Team IndiBlogger was very particular about the end-time of the beach-activity, we proceeded to the resort as scheduled. We again changed into evening wear for the subsequent sessions. Blogger session was conducted in the lawn where Anoop of Team IndiBlogger posed some queries of the chosen IndiBloggers that were answered by IndiBloggers.
Then, the drivers among us were asked to volunteer. I was one of the 20 drivers.
Pic Courtesy: UK
Referred as 'Captains', we were asked to choose a team-member of the opposite sex. Next the audience was asked to "find yourself a team!".
As the total number of Bloggers were 60, each team was supposed to have 3 members.
I had a wonderful team with UK and Pooja.
Next was the Locker room session where we were amazed to find Zica merchandise including Messi Tata Motors #10 T-shirts neatly arranged in lockers bearing our names!
Source: Zica Tata Motors
We were asked to take our goodies!
We loved Cyrus Sahukar's surprise entry.
Cyrus Sahukar asking

Delna Avari Zica-Queries.
The members of Team Zica Tata Motors including Delna Avari, Head- Marketing Communication & Services, Pratap Bose, Head-Design, and Anand Kulkarni, General Manager, Vehicle Integration- Cars,
gave presentations to introduce us to the passion, brains and technology behind the Zica. We learned about why and how Lionel Messi came to be associated with Zica Tata Motors as its brand ambassador.
We were impressed to learn of the great thought and precision that has gone behind the making of the Zica. Truly #madeofgreat.
The lockers giving way to reveal the Zica was #Fantastico.
Next, it was time for dinner. We enjoyed food over a musical Karaoke evening. When our hosts- s
inger Bonny dCosta
and Cyrus, solicited audience request, I suggested the song-
"I can't help falling in love with you"
.
It was great to hear it rendered flawlessly by Cyrus. Many Bloggers like Rahul, Blogwati, Maitreni and Vaisakhi revealed the talented singers in them by singing mellifluously. Everyone loved the rappers Cyrus and Blogwati in "Ice Ice Baby". We got to hear many popular numbers. During the previous ballroom technical session, who could have imagined
Team Zica's Pratap Bose also sings as well as he conducts presentations! On Bonny's insistence, even
I sang the concluding lines of Boyzone's-"It's only words, and words are all I have to take your heart away", ending the song that Rahul had started, and Celine Dion's Atlanta Olympics inaugural song-"Power of the Dream".
Bonny dCosta & I; Pic Courtesy: Sid
Thinking of all of us assembled there, I felt we all shared the power of words and dreams.
Thinking about Zica, I realized that it too is the creation of dream power.
Source: Zica Tata Motors
After the musical evening and yummy food, the excitement for Day 2 didn't allow us to sleep. Many of us were awake till late night, checking out the WhatsApp messages about the upcoming drive. Couldn't wait for the raw deal behind the wheel- the hands-on Zica experience!
"
Pal pal pal pal, har pal, har pal, kaise katega pal, har pal, har pal?
"
(How will the moments pass by?)
We couldn't wait as we were very excited for the drive!
We got ready dressed in the bright blue Tata Motors T-shirts. 6:30 AM was the start time for the sumptuous breakfast. Sharing some Kokum Water for you!
We had to check out of our rooms by 8 AM. 20 Zicas had lined up for 20 teams and were waiting for us!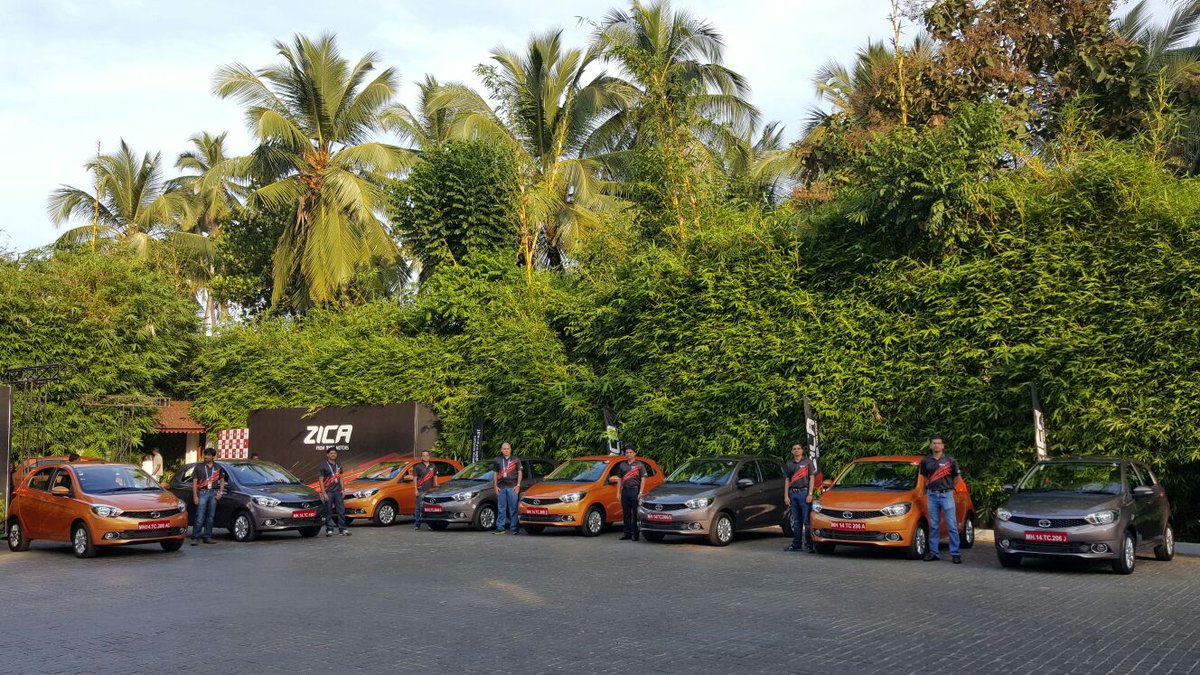 We were assigned a bright Sunburst Orange Zica. Our team took our place in P8 - Petrol version of Zica.
"
Zica mere saamne, Main Zica ke saamne, Zica ko dekhoon ya drive karoon?
"
(Zica is in front of me, I am in front of Zica, Should I stare at Zica or should I drive?)
Before we started for the drive, Mr. Anand Kulkarni of Tata Motors gave us a quick briefing.
Delna Avari and Pratap Bose
flagged off our drive.
Being at the driver's seat, I got to zip, zap, zoom
on Goa's roads
in our Zica with my team.
"Goa ki Galiyaan, Galiyaan, Goa ki Galiyaan, Mujhko bhave Zica pe Goa ki Galiyaan!"
(Goa's roads fascinate me with Zica)
We started by posing with our Zica in front of a church.
From L to R- UK, Me & Pooja
Escort cars- Tata Arias - were following all the teams to ensure all was well.
During the course of our drive, teams were posed 29 challenges by IndiBloggers. We had fun while sincerely trying to attempt them all while enjoying the drive on Goa's roads!
Some challenges:
Counting Hexagons!
— Fashionablefoods (@foodietweeter) December 6, 2015
Dancing around Zica on the road!
— Pooja Mahimkar (@PoojaMahimkar) December 7, 2015
Fitting in Zica's boot!
— Fashionablefoods (@foodietweeter) December 6, 2015
The Zica drive tempted Pooja and she too wanted to be behind the wheels for some time. She stopped at a point where an empty road lay ahead in front of our Zica.
Driving the Zica, I never realized that much time had passed and we had reached our destination- Verna! We were so engrossed that we hadn't even opened the refreshment snacks packets that had been so thoughtfully packed.
Me at Verna, Goa; Pic clicked by UK
"
Ye kahan aa gaye hum yuhi saath saath Zica pe?
"
(Together where have we come driving the Zica?)
The road looked lovely and beckoned us for a looong drive. We reached the end-point and journeyed back to the resort wishing the Zica drive could go on and on...
After we returned, Cyrus interviewed us at the resort.
We had lunch. While waiting to start for the airport, we enthusiastically participated in a round of Antakshari.
Pic courtesy: UK
It was time to leave the resort for the airport. We travelled together in a bus.
Then, before boarding our flights, there was a meeting at the airport!
It was time to say bye and board our respective flights...
After reaching home, it was time for the Zica hangover to continue and to answer questions like-
"
Kyun Zica Zica karti hai, Kyun Zica pe yun marti hai
?"
My answers-
"Hangover Zica ki yaadon ka!"
(Hangover of Zica's memories!)
(
Earned Zica precious treasure)
Based on my personal experience, my post-
7 C's of Zica.
I loved the #Fantastico Zica #madeofgreat experience.
This was the first time I had attended a car-launch event.
Everything about the #madeofgreat experience was #Fantastico.
Also, this was my first IndiBlogger event, and it was great to meet the other #Fantastico Bloggers invited to #gearupforgreat. Many of us had interacted online over the years but had never met before! We made new friends as we met for the first time. We earned nicknames and gifts too! It was a pleasure interacting with everyone.
Thanks to all who have shared the #Fantastico images and videos.
Our Goa trip was #Fantastico- very well-planned and organized with super attention to details- right from regular mails, air-tickets, stay and arrangements...
But, like all #Fantastico things, this too came to an end very quickly.
Thankfully, the memories and inspiration will last for a lifetime.
Kudos to the #Fantastico Team Zica Tata Motors, Team IndiBlogger and Team Wizcraft!
"Bahut shukriya, badi meherbani meri zindagi mein Zica aap aaye."
(Thanks Zica for coming to my life.)
Hope you liked the Zica event. Please share your comments below.
Note: This is my honest review of the Zica experience. Loved the Zica Infotainment system. Being a HUGE Bollywood fan, most of the songs mentioned in bold italics in this post really came to my mind just the way I have described here! I have tweaked the lyrics of the songs to sneak Zica into the picture!
Zica will be launched next year. You can check out more about Zica HERE.
ABC Wednesday- V for Very
Wordless Wednesday
WriteTribe #MondayMusings