When they met by chance on the way,
Sparks flew turning night into day.
It was inexplicable as it was their first meeting.
They were already hooked; no cheating.
After that did they feel everything is all right?
Life felt dark even when there was light...
Things were great when they were together,
Separation was
nauseating
; it did matter.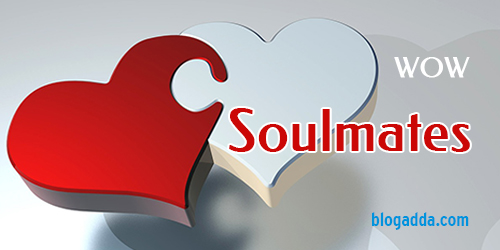 In every event, their eyes searched for succor...
They felt they were drifting away from seashore...
But, when they could set their eyes on each other,
Life seemed perfect with nothing to bother!
Why their togetherness made things fall in place?
They couldn't understand/explain their craze.
They couldn't sleep even a wink that night,
Anxiously tossing & turning all night...
Memories replayed, instead of counting sheep,
They knew their togetherness bonds were deep.
They were soulmates, they realized for sure.
Their union was the solution, their life's cure...
His
machismo
& personality had won a lady's heart.
Thinking of her, he was already playing an
oaf
's part!
Neither was ready to confess, grab soulmate & claim.
Dilemma was- 'Does the soulmate also feel the same?'
Thinking of their soulmate sleeping snug & tight.
Wondering if their soulmate was missing their sight...
Perhaps they were seeing each other in their dreams?
Could their soulmate hear their loneliness's shrieks & screams?
And then the lady's phone beeped; she was thrilled to see-
That even her soulmate was sleepless & missing her dearly!
Do you believe that there are soulmates? Please share your views below.