When you see an ambulance or listen to its siren on the road, what do you do?
Try to make way for it, right?
When I find myself in such a situation on the road, I pray for the patient(s) and the family-member(s). I sincerely hope that may the patient(s) recover fast and be saved.
From the last couple of months, seeing the heavy traffic-jams and rush on the roads in Bhubaneswar, especially during peak-hours, I have been praying for the ambulance to reach the hospital before it's too late.
The doctors can save the patient only when she/he reaches the hospital quickly and they have time to do what is necessary.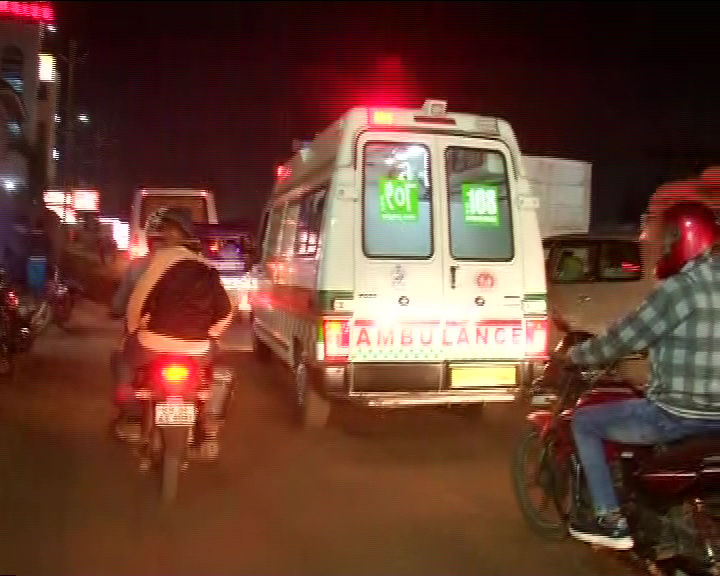 In such events, time plays the deciding factor between life and death.
I believe in the power of prayers and also that "when God wants to save, no one can harm" and that those who are destined to live, will survive no matter what the odds.
Yet, I find myself praying fervently seeing an ambulance stuck in the traffic-jam.
Having encountered this on some occasions, I have felt guilty and helpless as precious seconds tick by.
The traffic-lights seem to take longer time to change. I have seen the frantic efforts of traffic-police trying to ensure priority passage for the ambulance.
In such cases, I wish we had an exclusive lane that would be free to let ambulance pass by.
I have my eyes on the extreme left lane and wish it were free.
However, that seems a distant possibility as it is occupied most of the times and does not even allow vehicles to take the left turn when the traffic light signal clearly permits the same.
I shared these views when City Mirror's journalist, Shri Dilip Sabat, who was doing a story on "Traffic Jam", contacted me last Monday, on 10th February, 2020.
"During office and school and college hours, there are traffic jams and long queues. Roads are smaller, while the number of vehicles are more."
He asked my views regarding this.
I shared regarding ambulance.
I truly fear for the lives when I find an ambulance stuck in the jam.
The next day, I was sad to learn about a five-year-old boy, who had died in the ambulance. As per the bereaved father of the boy, his son died owing to the heavy traffic on the road.
Though the boy's father alleged that the said ambulance took one and half hours, later, after verification from CCTV footage, the commuting time for the ambulance was found to be 20 minutes for 12 kms distance.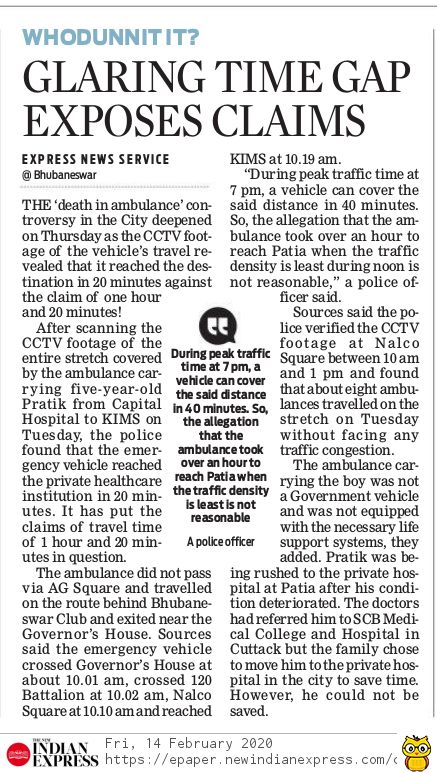 We need to set examples and do the right things for the public to emulate.
— CMO Odisha (@CMO_Odisha) February 15, 2020
It is time to raise awareness and inform the road users regarding road safety and to make way for ambulance.
#MakeWayForAmbulance
initiative of Commissionerate Police in the premises of Esplanade One Mall at Rasulgarh, Bhubaneswar, was a step in this direction.
The programme was conducted on February 14, 2020 i.e. on Valentine's Day. It was a celebration of
#LoveForLife
.
— COMMISSIONERATE POLICE (@cpbbsrctc) February 14, 2020
'Follow Rules' features in my post
10 Things WE Can Do For India
that lists what an ordinary citizen can do for a better India. If we sincerely follow rules, our country will be a better place to live in. It includes following traffic rules and giving way to ambulance.
We, the people, are responsible for our safety and for our country.
— Sagarika IPS (@sagarika_nath) February 14, 2020
During the 2019 Rath Yatra in Puri, Odisha, India, an ambulance had made news.
Hundreds of devotees had made way for an ambulance.
This
was extensively covered by media.
Ambulance was allowed to pass as the sea of devotees gave way. Rising above barriers of caste, language, religion etc., it marked unity, respect, and discipline. It reflected the values and significance of the centuries-old Rath Yatra celebration when each year the Lord of the Universe, Lord Jagannath, comes out with His siblings, and allows His devotees to be a part of His journey.
Ambulance is also a yatra - a journey. It can prove to be one that gives life or takes it away. Let us recognize this reality and support in our own way.
Media can play a big role.
The above-mentioned article about Traffic Jam titled "
Jibana Jaam
" was published in Odia daily,
City Mirror edition dated- 17 February 2020
.
I sincerely pray that may there be no traffic accidents and ambulance incidents and may no family-members lose their loved ones due to road accidents or traffic issues–
"Sarve Bhavantu Sukhinaha,
(May all be Happy)
Sarve Santu Niramaya,
(May all be Free from Disease)
Sarve Bhadrani Pashyantu,
(May all have Well-Being)
Ma Kaschit Dukhkha Bhaga Bhavet"
(May there never be Sadness)
Thank you, Shri Dilip Sabat, for covering this important topic and for sharing my views.
What do you think when you see an ambulance on the road?
What do you feel about traffic jam in your city? Have you ever seen an ambulance in a jam?
Do share your views below.